Innovation for Health – Wei4H 2021: Pan-European distinction
The IEEE Region 8 Entrepreneurship Initiative is an effort launched in 2018 and is led by the IEEE Region 8 Young Professionals team, which targets the existing and potential members of the entrepreneurship ecosystem.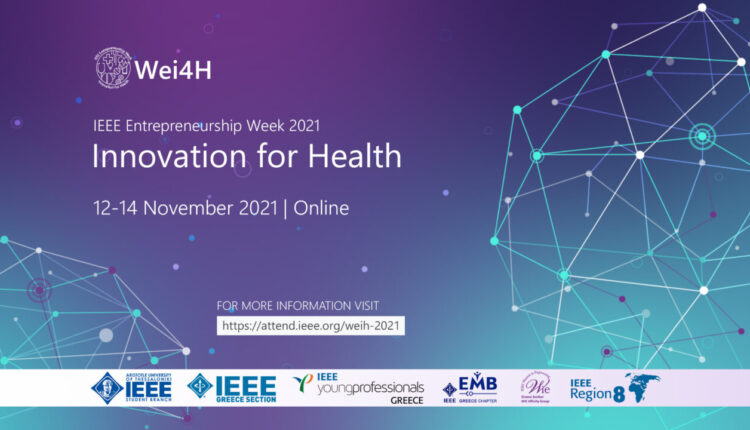 With prominent and distinguished scientists and renowned leaders as speakers, and a competition that stood out for its originality and the results of the teams and the Startups, Wei4H Ambassadors stood out among 32 nominees and received the Best Event and Best Ambassadors awards in First Place proving once again the potentials of young scientists and entrepreneurs but also the willingness of young people to participate in the problems that plague our society by giving their own solutions in the field of health by composing idea – knowledge – experience.
The Innovation for Health – Wei4H 2021 , is the first activity of the IEEE Entrepreneurship Initiative Program held in Greece with the pan-European character in the area of medical technology and healthcare. The aim of the event was to bring together researchers, entrepreneurs and students to discuss and shape the future of research and innovation in Europe and beyond. Research and innovation are key to ensuring that the transition to a post-coronavirus society is sustainable, resilient and inclusive. The Innovation for Health – Wei4H 2021gave participants the opportunity to connect, take stock of research and breakthroughs in the global pandemic, and build on the EU's response: global coordination of excellent science for global health, social and economic recovery.
Innovation for Health was held for the first time in Greece, by two Ambassadors, Chrysoula Tsimperi and Christos Roumeliotis , within the IEEE Entrepreneurship Initiative . Chrysoula Tsimberi and Christos Roumeliotis emphasize the importance of entrepreneurship, especially when it is the result of the efforts of young people who show interest when it is supported by actions like Wei4H , because in a world where subversive and exciting digital technologies are revolutionizing patient care, being innovative is not only desirable but necessary.
This event was a very successful effort by students and young people from different academic areas of the universities: Aristotle University of Thessaloniki, University of Western Macedonia, International University of Greece and the University of Thessaly, while in a short time it managed to coordinate and organize an action that is part of the IEEE Region 8, IEEE Entrepreneurship Initiative.
Members of the organizing committees were also: Zacharenia Lekka, Zachariela Xanthopoulou, Fotini Savvidou, Dimitra Ntanovasili, Olga Vasileiou, Iordanis Kostelidis, Aimilia Ntetska, Danai Karaviti, Nikos Kyriakopoulos, Christos Katsiagonis, Vaia Giannadi, Katakalos Lytos, Maria Dimou, Filippos Tolias, Mixalis Dadopoulos andA nna-Maria Patsiali.