Huawei: CloudEngine Data Center switches received recognition certification
These are the first models in the industry to achieve CC certification, based on the common EAL4+ criteria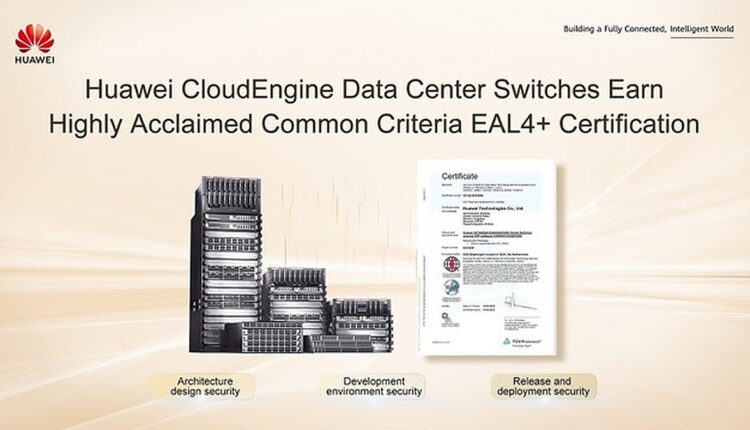 Recently, Huawei's CloudEngine 16800, 8800, and 6800 series data center switches underwent a security assessment by SGS Brightsight, the world's most popular security assessment lab, and received the Common Criteria (CC) Level 4 Augmented (EAL4+) rating — the highest assurance level for network products. In this way, these series of switches became the first industry models to achieve CC certification with identical network device collaborative protection profile (NDcPP) security functionality claims.
CC provides assurance that information technology (IT) products and solutions meet certain levels of security, reliability, and privacy protection. It is the most widely recognized and trusted IT product security certification in the world and can be used as an important basis for product security evaluation during enterprise IT solution construction.
"SGS Brightsight is the number one security evaluation lab in the world. It is a great honor to help Huawei obtain a CC certificate through our excellent team of security evaluators. This CC certificate can be used to demonstrate that, with the world's leading cyber security level, Huawei CloudEngine data center switches can offer customers secure and trustworthy services based on the evaluated devices.", said Mr. Kai-Fan Chang, COO Asia of SGS Brightsight.
As digitalization in various industries ramps up, new ICT infrastructure — the foundation of the digital economy — gradually transforms into a data center-centric architecture. In turn, this presents data center networks with more severe challenges in security and reliability. On the one hand, data center networks need to strength their security protection system. On the other hand, they need to cope with increasingly diverse attacks.
"Huawei always attaches top priority to the security and trustworthiness of our products. We build our security system for CloudEngine data center switches from multiple dimensions, including design, development, and delivery. They help build data center networks with a leading architecture, comprehensive functions, and high reliability, making them ideal for a broad range of scenarios such as cloudification, high-performance computing (HPC), and storage networks.", stated Mr. Wang Wuwei, Vice President of Huawei Data Center Network Domain.
Huawei CloudEngine data center switches ensure product security and reliability at the following layers.
First, architecture security: The security framework focuses on access security and operation security, building layer-by-layer defense capabilities of switches along possible attack paths.
Also, environment security: A secure product development environment is built through measures such as network isolation, security authentication, and permission minimization.
Finally, release and deployment security: Through defense against tampering, source tracing, trusted source, and anti-malicious download, Huawei CloudEngine data center switches implement end-to-end integrity protection.
In addition, Huawei has an independent security test platform to perform security tests on its products, ensuring product security and trustworthiness.
In the future, Huawei will continue to innovate data center network products, laying a solid foundation for data center infrastructure connections and building secure and reliable next-generation data centers.