Hellas Direct – AEGEAN: Competition with prizes tickets and bonus miles
The winners will be announced on February 23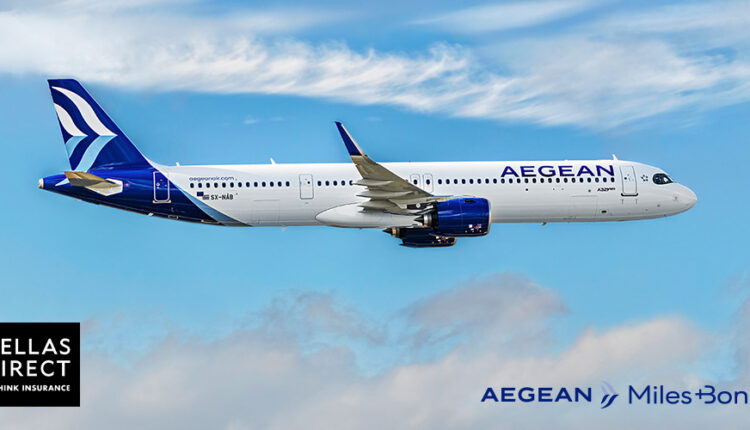 A competition that offers tickets and Miles+Bonus miles as prizes for five lucky winners is organized by Hellas Direct and AEGEAN. Until February 18, 2022, those who receive an offer for home or car insurance from Hellas Direct, stating their Miles+Bonus accounts enter the prize draw that offers tickets and miles from AEGEAN.
The first two winners will win 2 roundtrip flights to all AEGEAN and Olympic Air destinations, domestic and abroad (taxes are excluded) and the rest three lucky winners will earn 20,000 miles in their Miles+Bonus account, which they will be able to redeem on trips or partners of the program.
Those interested enter the page of Hellas Direct and get an insurance offer for the car or the house, state their Miles+Bonus account number in the field "Offer Code" and choose to participate in the competition.
The only prerequisite for participation is that those interested have a Miles+Bonus account. Anyone interested in the contest, but does not have a Miles+Bonus account, can become a member of the program easily and quickly here.
Participation in the competition is possible until 18 February 2022. Then there will be a draw to determine the five lucky winners who win either tickets or miles. The winners will be announced on February 23, 2022 by Hellas Direct.
AEGEAN is the largest Greek airline in the country and a Star Alliance member. It is consistently one of the most successful airlines in Europe and last year Skytrax ranked it among the world's leading airlines for its health, safety and COVID-19 protection measures.
Hellas Direct is a purely digital insurance company based on the latest technology and the use of advanced analytics. It provides home, car and motorcycle insurance and has been operating in Greece and Cyprus for ten years. This year it was distinguished for the second time as one of the 1000 fastest growing companies in Europe by the Financial Times.