The three-day FinTech contest Beyond Hackathon was organized by Eurobank's Innovation Centre and supported by the Found.ation and The Cube Athens. A total of 17 teams from Greece, Bulgaria, Romania and Slovenia took part in the three-day rapid implementation of their idea and made the final pitching in front of expert judges from Eurobank, Angel Investors, Executives and a representative from Startupbootcamp FinTech London.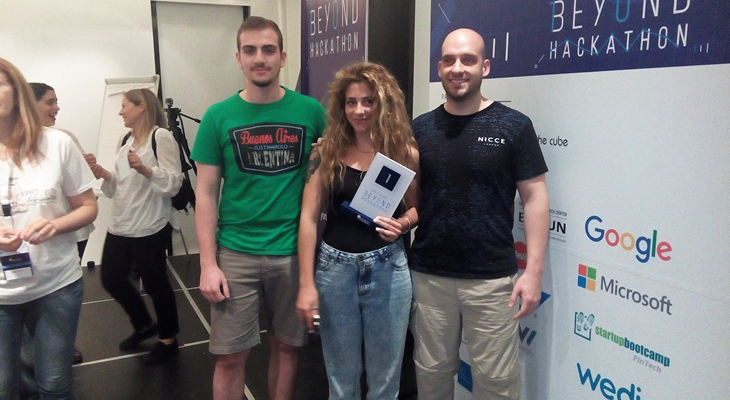 The first three teams won cash prizes of 5,000, 3,000 and 2,000 euros respectively, but more importantly, tested and implemented their idea, they worked as a team and all won the opportunity to speak with Mr. Syrmakezis, Digital Services Executive of Eurobank, to explore the possibilities of further cooperation.
The 17 ideas was covering a wider field of FinTech while some moved close to the core with payment and money transfer applications, a Banking App, and also Blockchain and Smart Contracts solution.
The most ideas related to products and services that take advantage of information and data from Eurobank's API and can either stand independently or be used by banks as a value added service to their customers and their official App.
CounterFactual
The first place won the Counterfactual team who designed a platform – App aimed in conquest personal – consumer goals. The user can select some goals, such a long journey or some product, and the app suggests selected offers. The money that the user saves, automatically placed in a bank account for user's goal.
Taki
In the second place the team Xbots with chatbot Taki. Taki is based on the FB Messenger and it is one of the first localized chatbot, and essentially is an intelligent virtual assistant that performs on our behalf various banking operations and gives us information about payments and our bills. 
Imperia Mobile
The third place took the team Imperia Mobile from Bulgaria who showed us a complete banking application with payments and money transfer with NFC.