EYDAP celebrates World Water Day
March 22 has been established as World Water Day. Information and awareness-raising activities week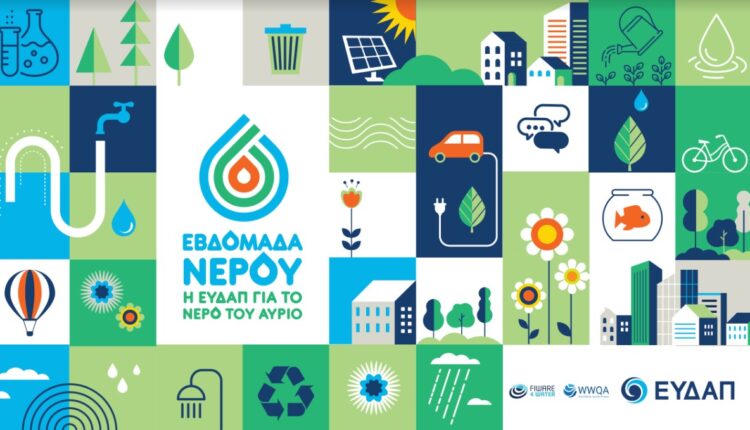 The 22nd of March has been established as the World Water Day, but for EYDAP (Athens Water Supply and Sewerage Company), awareness and action on water issues are a daily reality.
It gives priority to the protection of water and develops strategically important projects based on the principles of circular economy, ensuring maximum benefits for people, society and the environment.
As every year on March 22nd, EYDAP honors this year's World Water Day by organizing a series of information and awareness actions between 21 and 24 March 2022.
Driven by sustainable development, innovation and dialogue with civil society, EYDAP implements actions with the participation of institutions, educational communities, Startups, employees and citizens, sending a strong message for the water of tomorrow.
EYDAP aspires to start a creative digital discussion that will start from the history of water in Attica and will approach the multilevel challenges of its management, having as a main event the open discussion on "Water for the city and the city for water", which will take place digitally on World Water Day on March 22nd, with the support of the United Nations and the European research project Fiware4water, as part of the effort to create and strengthen networks from around the world to promote common ideas on water.
The parallel actions that will frame the main event are:
March 21: EYDAP presents at the 1st Primary School of Marathon the new educational program for sixth grade students entitled "We break the barrier of Mechanics." Children will have the opportunity to learn about the mechanical achievements that accompanied the construction of the Marathon dam, the great impact that the project has over time on the development of the city of Athens, but also to get to know the work of EYDAP for the provision of quality water to the inhabitants.
March 23: EYDAP employees will carry out tree planting in Aspropyrgos, sending a message about the importance of volunteering, the role of water and ecosystems, as well as the interconnection between these two.
March 24: Award of the EYDAP innovation competition awards to Startups, in the framework of the EYDAP Innovation challenge for the development of mechanisms that will recognize possible consumption patterns and implement models for predicting and detecting deviant behavior.
For more information, interested parties can visit the www.eydap.gr