EduWatch: A Crowdfunding Campaign to Teach Children Tell the Time Combining e-Learning and Physical Practice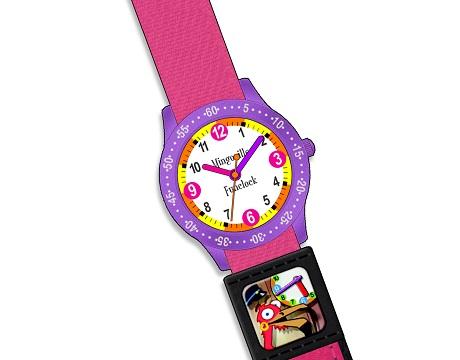 Savivo is a company developing educational games for children based in Denmark. Founded in early 2000's has developed award-winning education e-games and applications.
Yesterday, Savivo launched an Indiegogo crowdfunding campaign to fund an innovative learning project: The EduWatch.
The EduWatch combined with the Mingoville Fun Clock App is aiming at offering online learning with real practice for helping children to learn how to tell the time. The company has come up with the idea on the basis that at young ages children forget things really quickly, but if they learn by doing, the memory retention rate is up to 70%.
Mingoville EduWatch is specially designed to look like the clock in the Mingoville App, so children can make the connection between what they have seen in the app and the physical watch on their wrist. This also completes the natural process of learning how to tell the time with the Mingoville App and practicing the newly acquired skills with the EduWatch.
Savivo has completed the prototypes for the project and has now launched the Indiegogo campaign in order to raise the funds needed to start producing the watched and developing the application.
"Our goal is to show that Edu games and projects can and should be as successful as entertaining games and high-tech gadgets. Indiegogo is already a popular crowd-funding platform for different gadgets and games, that are very successful. We want to prove that the Education section can compete with high-tech projects too", is Stephan Stephensen, CEO & Founder, quoted saying in a press announcement.
All the contributors for the project will be rewarded with access to the Educational Games right away. The perk levels start at $3, but no matter how much is pledged, there will be at least one digital game for every contributor. The EduWatch comes in a variety of colors and the Indiegogo price starts at $25, whereas the expected retail price is $50. The EduWatch will be specially created for children, ready to handle the daily challenges of the playground: fast wrap strap, shock-resistant, waterproof and tested for Nickel allergies.
You can support the project on the Indiegogo campaign page: https://www.indiegogo.com/projects/eduwatch-app.