Drones2GNSS: The Greek drone that detects coordinates in inaccessible places
Drones2GNSS is a complete system that quickly maps positions even outside satellite coverage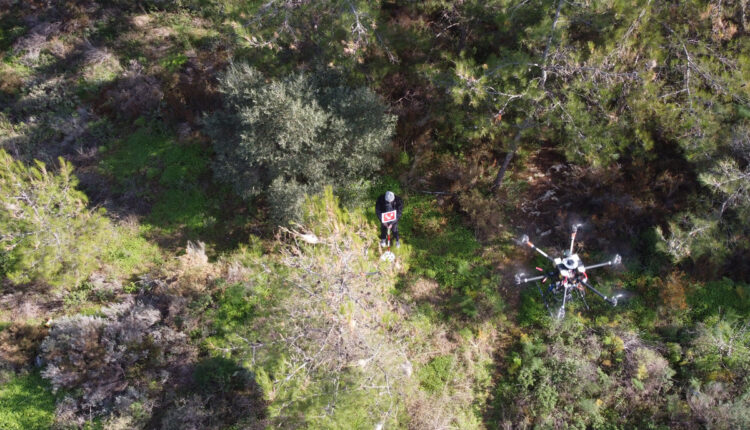 The partnership of Space Geomatica and Metrica, together with the SenseLab laboratory of the Technical University of Crete, provides a solution to a complex issue concerning precision measurements through GNSS (known to us as GPS), utilizing an original drone system. The partnership goes a step further than GPS, to points of limited visibility and under difficult access conditions, thus replacing traditional means of mapping.
Drones2GNSS, was constructed through the action "Research-Create-Innovate" (T1EDK-03209) and co-funded by the European Regional Development Fund (ERDF) of the European Union and national funds through the Operational Programme Competitiveness, Entrepreneurship and Innovation.
The system automatically captures, thanks to its sensors and appropriate image recognition algorithms, points in space in real time and improved accuracy, which no system could identify until now.
It is an autonomous system which contributes practically to the fields of topography, geosciences, industry, shipping and the environment. The collaboration of the research body with the companies has already presented the product to experts in the field and has received wide acceptance, as it solves one of the most key problems of the documentation of inaccessible areas.
However, its use is not limited to the above, as it may well collect data on applications of environmental interest, but also to the archaeological sector where the accuracy of documentation plays a key role, or to the agricultural sector talking about precision agriculture, and to natural disasters contributing to the action of civil protection.
The goal is now to develop the extroversion of the product in a multi-billion market, integrating in the long term the goal of de-investment. Finally, Drones2GNSS has received distinctions in the EU's largest space applications competition in 2016 as the most innovative concept of satellite navigation systems and came second in the global competition European Satellite Navigation Competition, winning a place in the international technological and commercial field of mapping and unmanned systems.