Deloitte: Lack of work flexibility exhausts working women
This burnout is one of the main factors that drives women away from their employers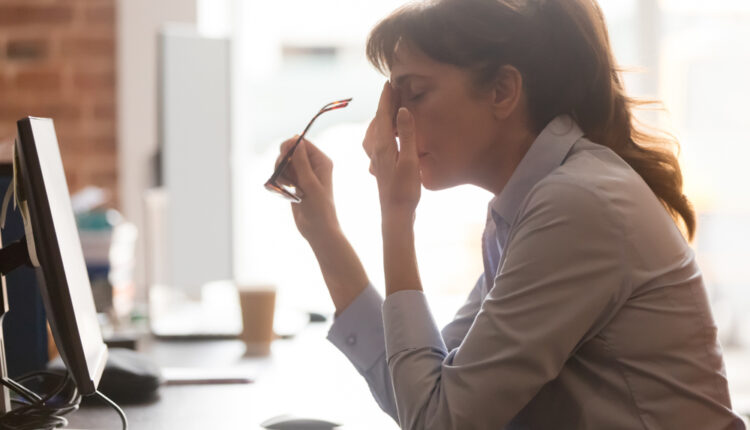 Extended burnout and a lack of flexible working continue to hinder progress in supporting working women, according to Deloitte's latest report, "[email protected] 2022: A Global Outlook." The survey reveals that 53% of women claim that their anxiety levels are higher than in the previous year and almost half feel exhausted.
This burnout is one of the main factors that drives women away from their employers: almost 40% of women who are actively looking for a new employer have cited it as the main reason. More than half of the employees surveyed want to leave their employer in the next two years, and only 10% plan to stay with their current employer for more than five years.
Representing the views of 5,000 women in 10 countries, the survey shows alarming long-term effects, as anxiety rates and incidents of harassment or micro-aggression remain high. The survey also sheds light on alarming findings about the "new normal" of work, as nearly 60% of women working on hybrid models (arrangements that include any combination of remote work and office work) report that they have already felt excluded.
"Although many employers have implemented new ways of working designed to improve flexibility, our research shows that these new arrangements carry the risk of excluding the very individuals who could benefit most from them, with the majority of women surveyed having experienced exclusion in a hybrid work environment," said Emma Codd, Deloitte Global Inclusion Leader. "The number of women who report increased stress and exhaustion is of considerable concern and employers are struggling to cope with it, as shown by the fact that burnout is the main cause that some women are currently looking for new employment. The findings of this research show the importance of actions beyond politics — those that truly embody wellbeing, flexibility and an everyday culture of respect and inclusion."
Stress, burnout and limited opportunities for development distance women from their employers.
53% of women claim that their anxiety levels are higher than in the previous year and almost half feel exhausted. In addition, almost half of the women surveyed rated their mental health as bad/very bad. A third have taken time off work due to a burden on their mental health, but only 43% feel comfortable talking about mental health issues in the workplace.
The number of women seeking a new role at the time of the survey increased compared to last year, with 10% claiming to be in active search. 40% of this group cited burnout as the main reason it drove them away from work. For those who had already abandoned an employer since the start of the pandemic, the lack of opportunities for career advancement was the reason most mentioned (22%).
As for future plans, the outlook is bleak for employers: More than half of women plan to leave their employer within two years. This phenomenon is most intense with regard to women who hold medium- and non-managerial roles, with less than a quarter of women in these roles planning to stay with their employer for more than two years.Only 10% of the women surveyed plan to stay with their current employer for more than five years.
Workplace problems continue as flexibility remains limited and hybrid work presents additional challenges.
While many organizations over the past year had turned to strategies for integrating flexible and hybrid work models, many women report that they have not yet felt the benefits of these new ways of work.Only 33% of women say their employers are implementing flexible work policies, and when asked about the policies their organization had introduced during the pandemic, only 22% mentioned flexibility about where and when they work. In addition, 94% of the women surveyed believe that applying for flexible work will affect their chances of being promoted.
Beyond flexibility, adopting hybrid work has presented additional challenges. Nearly 60% of women working in hybrid environments feel excluded from important business meetings, and 45% say they do not have enough exposure to managers, a critical element in their professional development. Worryingly, hybrid work does not seem to provide the predictability that women with family care responsibilities may need, with only 26% saying that their employer has set clear expectations in terms of how and where they work.
This year's survey also showed that women who work in a hybrid environment are much more likely to report experiencing micro-aggression than those who work exclusively in person or exclusively remotely. More generally, the percentage of women who have experienced exclusionary behaviours in the workplace in the past year has increased from 52% in 2021 to 59% in 2022. Exactly half of women say they have experienced micro-aggression, while 14% have experienced harassment. On denouncing these exclusionary behaviors, there is still fear of "professional retaliation", as 93% believe that reporting such behaviors will negatively affect their careers. Only 23% of minor attacks were reported to employers, compared to 66% of reported harassment behaviours.
Intersectionality is o great significance as women from different backgrounds face increased challenges.
While exclusionary behaviours affect the majority of workers surveyed, women in ethnic minorities in their countries, LGBT+ women and those with lower administrative or non-managerial roles are more likely to experience them. Many women feel less optimistic about their career prospects compared to 12 years ago.
Women belonging to ethnic minorities are more likely to feel exhausted than their colleagues who belong to the ethnic majority of their country. They are also much more likely to report experiencing exclusion from atypical interactions (15% vs. 10%) and feel manipulated (9% vs. 2%).
LGBT+ women are more than 10% more likely to say they have been undermined by managers because of their gender and 7% more likely to report that they have been addressed in an unprofessional or disrespectful way than women who do not belong to the LGBT+ community.
In addition, burnout levels vary by professional level.61% of women in middle-school positions and younger women (aged 18 to 25) report feeling exhausted, proving that high levels of burnout are experienced to a greater extent than women in these professional groups. These women were also more likely to report that they were planning to leave their employer within two years.
More and more employers achieve benefits for both women and gender equality leaders.
As organizations strive to rebuild a resilient workforce, many can take an example from a group of employers who have already managed to build an inclusive work culture, and support women's careers.Deloitte's research identified a group of "gender equality leaders", organizations that, according to the women surveyed, have truly created an inclusive culture that support their careers, work-life balance, and promote inclusion.
Women who work for gender equality leaders report much higher levels of well-being and professional satisfaction. Of the women who work for them, 87% say they receive adequate support for their mental health from their employer and the same percentage feel comfortable talking about their mental health in the workplace. They also report much more positive experiences than hybrid work. It is noteworthy that of these, only 3% feel exhausted.
While it is obvious that women benefit from working for gender equality leaders, there are also clear business benefits: None of the women who work for them are currently looking for a new job, and only 9% plan to leave in the next 1-2 years. In fact, 90% rate their motivation for their work as good or extremely good.
"Creating and maintaining a true and inclusive culture should be at the forefront of any corporate agenda," said Michele Parmelee, Deloitte Global's Deputy CEO and Chief People and Purpose Officer. «This means that organizations need to address burnout, put the mental well-being of their employees as a priority, and approach hybrid work with inclusion and flexibility policies that work effectively for women. There is a unique opportunity to use the progress already made to ensure that women from all backgrounds can thrive in a fair and inclusive workplace."