A multipurpose workspace that does not remind anything of the usual corporate offices or co-working spaces has been created in Athens by the company ViOS, offering for the first time in Greece rented offices designed with the model WELL Building Institute. The COO of ViOS Corinna Saias in an exclusive interview presents to STARTUPPER MAG the "office of the future" and the new trends in the formation of a modern working environment, which combines efficiency, creativity, well-being and health.
S.M. The creation of a new space, such as ViOS, in the field of co-working spaces and shared offices in Greece, is currently considered a great challenge both because of the conditions created by the pandemic, and because of the particular characteristics of the greek market. How did you decide to invest in Athens? What were the business reasons that contributed to this investment decision?
Corinna Saias: The pandemic of 2020 and the numerous surveys over the years show that it is now an illusion to believe that we can separate prosperity, whether it is physical or mental, from our work. Therefore, it was a logical and self-evident consequence to create ViOS, which has been designed on the basis of the WELL standard, certifying that a building has been constructed, greatly affecting human health and well-being.
Specifically, we focus on 100 features and 11 modules, which, for example, are air, water, nutrition, lighting, fitness, temperature, sound, materials, mind, community and innovation. According to an HRExecutive survey I had read recently, the company's overall welfare and health care budget has increased by about 22% since 2020. Therefore, the greek market is ready to accept the new trends. After all, the biggest confirmation is the high demand we have.
S.M. You referred to this research which provides important information about the market. But there are a lot of research that has been done in 2020 and the first half of 2021. Although the general public is not aware of it, these recent surveys have shown that the largest tech and multinational companies around the world are modernizing and transforming their offices like you have planned ViOS. Why is this happening globally?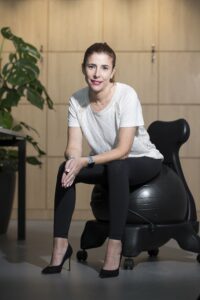 Corinna Saias: Well, as I have read recently in an article, health is wealth! Specifically, it was an english article that said: "Health is wealth". I think that this has been recorded deeply in the minds of C-executives, CEOs, CFOs, etc. And that's why they decide to invest in their most important capital. That is, the mental and physical health of their employees. It is an indisputable and now thorough fact from numerous surveys that healthy and cheerful employees are more productive.They have strengthened their morale and remain more loyal to their companies. For all these reasons, there are these new trends that are used worldwide.
But the question I'm asking is this: In 2021 and while we're in the Covid era, is there a company in the world that thinks it has the potential to ignore the health of its employees? Probably not. But as the surveys showed at least, from the first to be done on Google and Facebook, the performance was bigger, the employees wanted to go to the office and stay more hours. So many times after a rest or break they were more productive. They had become more creative. That's what happened, they became more creative. This develops their creativity, they become more productive, happier and, do not forget, they are more loyal to the company. When someone is having a good time and is doing well, it's not just the financial, it's the prospects you have within the company it's how comfortable you are, if you have a good time, but all these have played their part.
S.M. Compared to the other co-working space companies operating in our country, what are the most important differences of ViOS? How will a new company, a startup or a new professional be benefited from your collaboration?
Corinna Saias: Since we are talking about startups and new professionals, I'd like to start with that. Let me state that there is a demand from multinational companies, that ask us for floors or even the whole building, up to students. So our target-market is too big and we have demand from different companies. As far as competition is concerned, we could be talking for… hours, because I think we have nothing to do with it and I honestly think that we are unique in the greek market.
ViOS does not just provide a workplace, but an experience. In our facilities you will find: gym, yoga room, massage room, meditation area, changing rooms, concentration zone, event and meeting rooms, seminar rooms. Finally, an important differentiation is that we are offering one of the strongest measures in the market against Covid-19.Among other things, we renew 100% of the indoor air every 20 and 30 minutes, which you will not find on the market and is the most important measure you can take. In addition, disinfection is carried out with ultra-violetlights. Another important provision is that our members have 24×7 access to the premises… even in the gym.
Finally, technologically our superiority is clear. We have fiber optic and redundant microwave access, we provide SSID for every customer, we have ups for power supply in case of a power cut and, finally, we have the most sophisticated systems in the meeting rooms for remote meetings and presentations.
How will companies benefit from our cooperation? Depending on where people work, their productivit and heir creativity increase. Here they can network with other companies. ViOS can meet all business needs in a single space. That is, you can impress your customers, organize your corporate events in our biophilic spaces, carry out your trainings, relax and recharge your batteries,
take care of your diet and assign administrative services to our trained staff.
That's how we can help companies and professionals.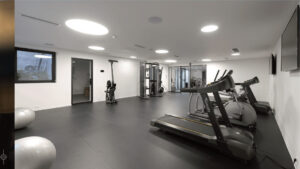 S.M. The first factor is the conditions of the workplace and the environment created for the employee and the staff. But the other is the economic cost because – let's not forget – we still haven't come out of the fiscal crisis as a country, while there are also the consequences of the pandemic's health crisis. Many companies consider it equally important. How cost-effective is it to choose a co-working space with the services, benefits and specifications offered by ViOS for a startup or a professional?
Corinna Saias: Of course it's important! Well, we've simulated economic scenarios and found that renting an office on ViOS can yield, and that's a reality, up to 60% savings in a business. This, of course, if we take into account all the costs included in the ViOS subscription, such as fiberoptics connection and microwave access – cleaning and disinfection, reception and safety. Technology, firewall, furniture, repairs, electrical and office equipment.
If you count all these into the cost, you will see that eventually the ViOS subscription comes out more economical. Of course, we should not compare rent to rent, you have to compare the whole package. For example, if our printer breaks down you just call and then you forget it. We deal with everything and bear all the costs. At ViOS there is a single price without hidden charges and especially without unpleasant surprises, stress and obligations that are time consuming.
S.M. Apart from the environment, the workplace and the financial cost, at least for the last 40 years the selection of offices by greek companies was based on location, combined of course with jobs. But over the past 20 years, starting with SiliconValley, the choice has shifted to the workplace in order to be friendly for the employee.ViOS is based on the WELL standards that have emerged in recent years.How important is it to ensure well-being, health and flexibility in the modern workplace?
Corinna Saias: I think it is now the number one priority. In the old days, companies were looking for a workplace with the main focus on location, the well-known "location-location- location". Now this idea is outmoded. And successful businesses are looking for workplaces based on the triptych of "location, well-being and flexibility"! Because flexibility is also very important, as we have seen in recent years with the crisis. The pandemic has made even the most skeptical become supporters
of this philosophy.
S.M. Since we mentioned the international trends, from "location – location – location", we moved to a combination of "location, well-being and flexibility" as a new trend. From your experience, what are the prevailing trends internationally in the creation and operation of workspaces that change the data? Especially for the companies that now use them.
Corinna Saias: The market trends are clear, as David Smith stated, who heads the survey of employees at Cushman and Wakefield. We no longer come to the workplace to work. That is the truth. A company's central facilities now serve to enhance co-operation, that's the important thing. To contribute to socialization and help with mentoring programs. We can work from other places, we don't have to go to our offices.
ViOS has combined its spaces with a view to socialization, creativity and collaboration. Each space was created based on the idea of activity basedworking environment, enabling employees to alternate the spaces where they work depending on the nature of the work at that time. Because we don't always do the same kind of work. We put an end to monotonous work!
For example, if a member needs absolute concentration, he can work in our specially designed area on our "green terrace" overlooking Lycabettus and no conversations or telephones are allowed. If he wants to change, he can work in our winter garden, on the ground floor under our lemon trees. And if he needs to exchange ideas, socialize or expand his network, he can go down to the lounge, on the ground floor where there will be other members of our community. So, depending on what he wants to do at any point in time, there's a special space here at ViOS.
S.M. Due to the pandemic teleworking entered the greek reality. Do you believe that the rapid spread of teleworking is now an important factor in the companies' decisions – especially startups – in Greece for the selection of workplaces?
Corinna Saias: I think that with the pandemic it became a sprint and all the new trends in the workplace, which had already begun years ago, were adopted very quickly. Teleworking for a start has forced us to prioritize our workplace needs. I imagine that we will all agree that now the safety of our health at work is the number one criterion.
At ViOS we take measures that you will not see elsewhere, for example we have reached a point of ordering certified door handles that are antimicrobial for all common users entrances. It also seemed clear that a solution must be found to the lost hours of travel. Large multinational companies as I was reading very recently in an article, in Dropbox they promote the idea and financially support their employees to work in collaborative spaces near their homes. To save commuting. Think about how much time we waste every day to commute!