Abe Fornis: "Innovation is part of Dialectica's DNA"
Dialectica's General Manager, EMEA & APAC speaks exclusively to STARTUPPER MAG about the secret of the success of one of the fastest growing Greek startups, emphasizes the importance of hiring young and talented scientists, describes the excellent working environment of the company and reveals the company's future plans to "conquer" the global market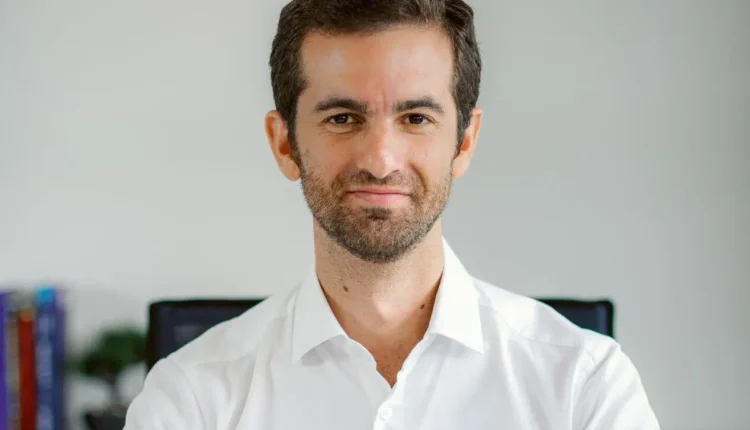 S.M.: We know Dialectica as one of the fastest growing Greek startups that connects institutional investors, consulting firms and large companies with specialized market executives. Since its inception, the company has contributed to the completion of business deals worth over 180 billion euros. This has established it as one of the world's leading companies in the Information Services industry. What is the reason for this rapid growth of your company?
Dialectica's success is due to different factors, such as the growth of the information services market, our very good team and the company's operating business model. To begin with, the fact that we are active in the information services market, which is growing rapidly with the prospects for the future being very positive, is certainly a favorable factor. The second reason is purely internal. We have built a business model that in general and as a result, works.Dialectica, responding to the needs of its clients, gives direct access to primary information to the largest institutional investors, consulting firms and large companies worldwide, in order to help them make better business decisions in a faster time. Our services are inspired by the needs of our customers and designed in such a way as to adapt to any change in them.
When it comes to employee dynamics, at Dialectica we hire talented people who have an innate will to become better. Having outlined very well the profile of the person who joins our team, we have built around it an ecosystem of processes, tools and infrastructure that support our potential, allowing all employees to develop new skills and develop professionally.
Finally, I think we got the right bets at key times. At the beginning of the pandemic, all companies were faced with critical situations. Then, in the second quarter of 2020, it was our choice not only to support our potential, but also to proceed with a large number of recruitments. By investing in the development of the human resources department at the same time, we built the right infrastructure that would allow us to grow even faster in the future. So, when in 2021 the market conditions improved, we were in a very favorable position and managed to outperform our competitors who have been active in the market more years than us.
S.M.: We met you in the summer of 2015 in the midst of capital controls. How much has Dialectica changed since then? Do you follow the same operating protocol or not?
As for the similarities, although my career in the company began in September 2019, I would say that the profile of the man who works at Dialectica remained similar. Our employees have an innate need to constantly learn and evolve, they have their eyes open to the world, to other cultures, they have a natural curiosity to understand what is happening around them, and very often they have lived, studied or worked abroad.These characteristics are found in both the first Dialecticans and our younger employees. At the same time, and despite the rapid increase of our staff, the environment at Dialectica remains a team environment. We try to keep the human element at the heart of our culture through the way we all behave and act within the organization.Each of us supports and advises the other, openly shares our ideas and opinions, always having as our common goal to bring the best possible result for our team and our clients.
As to what has changed over time, I think that is the speed with which we can make changes. From the beginning Dialectica was a profitable company, but now its size is much larger and allows us to open offices abroad without the need for external funding, as well as to hire many new employees. A second difference is that many decisions that were taken very quickly in the past, such as decisions concerning internal procedures, now take more time.With the increase in the number of our employees and especially with the opening of our offices abroad, it is important to be sure that our actions improve our processes and adapt to the needs of Dialectica worldwide. Basically, Dialectica is now a scaleup company that ✓
S.M.: Mr. Fornis, one of the very important elements of your company is that it follows an innovative anthropocentric strategy, with emphasis on the professional and personal development of its employees. Also, the vast majority of its employees come from Greek educational institutions. How many employees do you employ in total and what is the ratio of Greeks and foreigners?
Now the team has grown quite a bit. Worldwide we are more than 800 colleagues in the organization, in five cities in Europe and America. Athens is the "heart" of Dialectica, with our domestic office numbering more than 550 colleagues.In addition to our Client Service team and other strategic departments located in Athens, dialectica's 60+ technology team is based here. The anthropocentric approach we take is not just something we say. It is necessary. Dialectica is a Gen Z company. The elements that made a job attractive to previous generations are not the same characteristics that make it attractive to the generation of people who are now coming out of university or have two to three years of experience. The young generation in Greece but also abroad is not only looking for an employer who pays well. This generation seeks to work in a modern company according to international standards, in an environment that offers good opportunities for personal and professional development, in a company that cares about the wellbeing of its employees and has created a dynamic culture for them. At Dialectica we are constantly evolving our internal processes in order to offer our potential an attractive working environment in which people come to work with appetite knowing that their day will be productive and at the same time fun, while their professional journey in the company will equip them with knowledge, skills and experiences that will facilitate their development within the company and in the global market.
Dialectica's "secrets" of success vary. Dialectica's working environment is truly special. We have extremely talented employees, each of whom offers different knowledge and value to our wider team, based on their personal professional background, training and experiences. Working in an international environment and with colleagues with different interests is an inspiration to each of us.The second characteristic that I believe differentiates Dialectica is that we have a very well-structured career path for our employees which is based on the development of skills and abilities that will help each of our employees individually to develop professionally within the company. That is why at Dialectica we invest significantly in Learning and Development, in order to help our people develop into capable managers and business leaders. Another standout is that Dialectica offers a truly international interface. Through our mobility programs, our people have the opportunity to work in our offices abroad, while through the Build your Future in Athens program of Dialectica, people outside Greece and Greeks abroad can work in our offices in Athens.
S.M.: In 2023 you are expected to move to the emblematic Piraeus Tower, the first "green" skyscraper in Greece. What were the criteria you set to come up with this choice?
We are very happy to move to Piraeus Tower. The criteria we had set for our new "home" were many. The sustainable design of the building was certainly an important factor, as was its strategic location at the beginning of the Athenian Riviera with the impressive view of the Argosaronic Gulf. At the same time, there is now a huge connectivity of Piraeus with all means of fixed track, with the tower being located less than 500 meters from them.Also, our move to the Tower of Piraeus will enable us to create a fully accessible environment for people with disabilities. Finally, by renting 6 floors and a total area of 6,200+ square meters we will have the opportunity to house our entire team in Athens in the same building, something that makes us all very happy.
S.M.: To this day your clientele extends to Europe and America. What are your future plans? Are you targeting other global markets?
Today we have five offices in Athens, London, Montreal, Vancouver and New York. From our office in Athens we also serve our clients in Asia.Most of our clients have a global footprint, with 100+ offices in dozens of countries. To be able to serve their needs in all these markets and as our clientele in Asia grows, thoughts of expanding to Asia are on our agenda, as is opening more offices in Europe and America. In our plans to grow and further increase our sales is not only geographical expansion, but also expansion into new services.With the needs of our clientele growing, since the beginning of the year we have been offering with great success a new product, B2B Surveys, i.e. surveys answered by market professionals and so our customers can get a concise summary of any question they have. B2B Surveys started in January in Europe and we have already built a team specifically for the American market.We will soon do the same for the Asian market. At the same time, we have launched two more products, which are at an early stage. One is that we have built an internal team of people, who do the transcription of our clients' conversations. This means that in addition to the conversation our customers have with market experts, they can also get their chat in writing, and we also offer summaries of these conversations to save time from summarizing the phone calls themselves. I believe that Dialectica has managed to be one of the very successful players in the industry, currently consisting of about 150 companies worldwide, because it continues to innovate. Innovation is part of our DNA. Since the beginning of January, what we have done in a more structured way, is to create a separate innovation team based in Athens and London. In the plan for 2023, but also in the coming years, is to create even more innovative products and grow the footprint of the products we launched in the past.