A guide to successful, productive and completely safe hybrid work
After about three years of remote work, we can safely say that the hybrid working model has become the new normal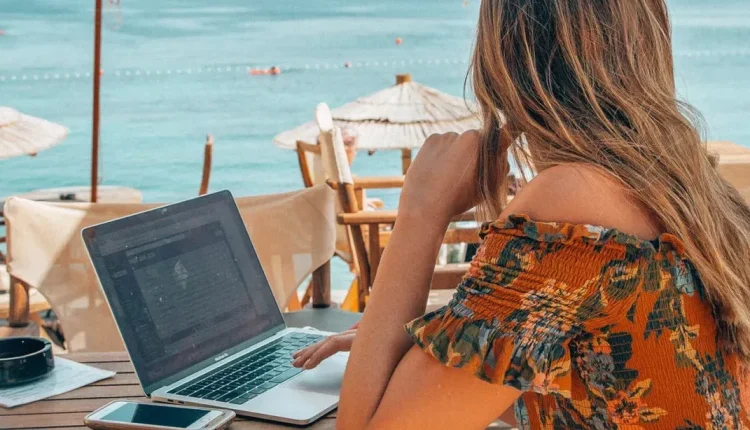 As the world finally returns to a normality that includes interpersonal meetings, travel and social events, we all know that one aspect of our life after the pandemic, that of work, may have changed irrevocably.
Across Europe, the hybrid working model has become, and possibly will remain, the norm, with most companies asking their employees to be in the company two to three times a week.
Time in the office now has a specific purpose and is aimed at socializing with colleagues and meeting with partners.
The time of the new normal
In 2020, businesses around the world were forced to take intensive courses in digital transformation, hurriedly entered the world of the cloud and equipped their human resources with all the necessary tools, in order to continue the operation of businesses without problems.
We can say, with confidence now, that both people and organizations have found their rhythms in the remote work model. As much as some businesses try to bring their employees back to the company full-time, employees seem to prefer the flexibility offered by the new way of working.
83% of employees in Accenture's Future of Work survey, which researched the reasons that motivate people to stay productive, healthy and effective in the new era of work, said the hybrid work model is the optimal choice in the long run.
The same study also showed that workers who felt they could be productive from everywhere had much better personal and organizational resources than those who could not.
Nowadays, the factor is not only the proper functioning of the various technologies, but the additional actions that employees must take so that they can work smoothly from wherever they are, but also to maintain their interest and dedication to work when they are offered the right motivation.
Keep interest in work: improved workspaces
According to Gallup's Report "State of the Workplace 2022", only 14% of professionals in Europe maintain interest and dedication to work, compared to 33% in North America and 21% worldwide.
The creative work environment is proven to be one of the factors that keep employees interested and acts as a motivator. However, in the era of Hybrid Work Model 2.0, the place from which each of us works is not a criterion.
Converting workstations to as ergonomic as possible is very important to ensure that continuous and long-term remote work does not have a negative impact on health.This can include sharing and switching workstations at home, through "set ups" that can be moved and allow comfortable work from the kitchen table, the garden, while equally important is upgrading your chair to one that better supports the body.
It is important to invest in a secure Wi-Fi Hot Spot or in improving home connectivity with Wi-fi extenders, such as D-Link EAGLE PRO AI's range of routers and mesh Wi-Fi extenders, which ensure smooth work, without problems and interruptions, from wherever you work at home.
Act smart: invest in the digital future
Whether we like it or not, our lives, both professional and personal, will increasingly take place in the digital world.
The pandemic has proved to be a catalytic factor in the mass adoption of both new and emerging communication, collaboration and document management technologies, with the consequent feeling of fatigue prevailing in terms of the use of technology tools.
Leverage technology to your advantage by investing time to upgrade the digital tools that will help you offset the fatigue that comes from the constant use of Zoom/Microsoft Teams/Google Meet (etc.). For example, unsynchronized (pre-written) video technologies, such as Loom, allow you to avoid unnecessary meetings and at the same time communicate everything that needs to be said with interpersonal communication, whenever needed.
Now is also the time to maximize your connectivity. When the whole house operates according to the hybrid working model, continuous and uninterrupted connectivity in all rooms is a critical issue. Eliminating the parts of the house where there is no Wi-Fi signal will make your home more accessible, both for work and play.
The new line of Wi-Fi 6 routers and mesh extenders can really improve the networks that have many devices and make a significant difference in facing the challenges of disconnecting the connection and empty points without Wi-Fi.
Stay safe: don't neglect security in the digital environment
There are countless devices with internet access in one house. Usually, convenience, efficiency and speed will determine how and when they are used. Think, for example, about how your information syncs to your own devices, or how often you use your phone to access and pay for goods and services.
However, as the idea of the workplace is now so fluid, it is more important than ever not to ignore safety. Phishing via emails, ostensibly coming from people and organizations you know, is one of the best-known pitfalls in the work environment and has grown sharply.
Before replying to any email, remember to verify the sender based on their email address, be careful if you are asked for personal information, and always check if the link is secure (https:// and not http://) before clicking on it. Knowledge of the internet will reduce the risk of you being the weak link in your company or home.
In addition, you can provide yourself, your employer, and your family with extra security using a VPN. There are many options available that D-Link's range of devices supports, either for free or at a small registration fee.
These useful security "layers" can ensure your privacy and block monitoring, while also being able to make your online activity safer from wherever you work.
After about three years of remote work, we can safely say that the hybrid working model has become the new normal. While we do not need to analyze its advantages, the time has come to invest in its future by working creatively, smarter and safer.