Facebook, AirBnB, Uber, Klarna, Doordash, SpaceX are just some of the investments made by Dimitris Mallios, while to these was added the first funding to a greek startup, BrooqLy of Nikos Ioannou and Panos Lazaretos. Of course, others will follow through new investment schemes across the business spectrum.
Dimitris Mallios was born and raised in the USA, but his origin is from Kimi and Cyprus. At the instigation of a relative, he found himself in the offices of Lehman Brothers, at the age of 19. On the first day in the office, the top banker of the company heard him speak greek, took him to his office and put him calling the greek shipowners, paying him with the piece, 50 dollars, for every investment he closed! Beyond that, Dimitris Mallios' path was prescribed: Corporate consultant, executive, fund manager, investment banker in many companies and investment funds.
In 2012 he founded Aeon Group, which today owns VCs, investment and consulting firms, and participated as a direct or indirect investor in "unknown" startups at the time, when the shares of Twitter and AirBnB for example were in double digits, but also in listed companies in America and China managing funds in excess of 1 billion dollars and with triple-digit returns on invested capital.
Interestingly, Aeon was one of the first investment companies in the U.S. to create a secondary market for equity holders of large tech companies, e.g. Facebook executives who wanted immediate liquidation, with Aeon connecting them with the right and interested investors.
Aeon crowd-investing app and IPOs in ATHEX and ETFs
Aeon Group can say that it is in a phase of digital transformation, since its newly arrived app, which has been created by greek developers, is essentially a Fintech crowd-investing platform, which is already live in 157 countries. Certified and institutional investors can participate in it, while BrooqLy is obviously also involved in the platform, which has already attracted significant investment interest (you can find it as a "aeon.vc" in the app stores).
However, Dimitris Mallios' plans do not stop at startups, since, as he told us, stock markets can play an important and multiplier role in upgrading a country in the field of capital markets. He considers it unacceptable that there have been very few imports in recent years on the greek stock exchange and wants this to change: "We are ready to acquire one or two Stock Broking companies in order to help greek companies enter the greek stock exchange, while in order to attract and enhance the international investment interest in Greece, we are planning an ETF of U.S. companies that we will list on the greek stock exchange," he said."It is not possible for companies created by Greeks to go abroad to find funding and thus lose valuable IP for Greece", he added.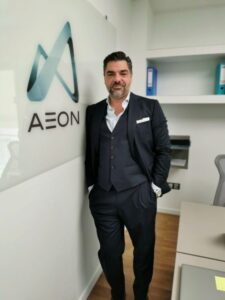 The return to Greece and the great vision
Dimitris Mallios recently moved with his family to Greece with a vision to make our country a global investment and technology hub, since as he characteristically stated: "Europe is the new field of development, but Greece is also an attractive place to live, it has the talents, experienced founders and now it has the necessary regulatory framework for business development and capital attraction.
"Since ancient times we have been the commercial crossroads of the world and with an important geostrategic position. This is true today and it is evident in recent years with the large investments and acquisitions of greek companies and startups", he added. For an external observer, Greece has Swiss characteristics, he said, due to its position and accepting investments coming from two major and competitive economic powers, America and China.
As he characteristically mentioned, "there is no reason for Greece not to become a new Silicon Valley attracting talents, capital and companies from abroad, with the costs of businesses in real estate and talent being very low compared to America". "This has already been shown by the large investments and acquisitions that have been made in Greece, such as that of Microsoft," he added.
Of course, the interesting thing is that Dimitris Mallios' strategy includes the creation of an investment incubator, which is in the process of being implemented in the first half of 2022, and as he characteristically stated: "It will gather the best minds of Greece, which will be supported by our team and will be connected to our rich network of contacts, executives of large technology companies, such as Palantir and Postmates, but also investors, thus increasing the chances of creating world-class businesses but also attracting even more potential investors in our country". At the same time, a new Fund will be created which will finance the companies that will enter the incubator, which will not be of an early stage, with the tickets being seed and pre series A level and more than a million. 
To our classic question about the sectors that interest him in Greece and in general he replied that as an investor he is technology agnostic, but in any case he is looking for remarkable teams and unique ideas. Of course, the areas where he has a lot of experience are technology, life sciences, real estate, natural resources management, telecommunications, while Fintech was also present in our discussion.                                       
One of them is obviously BrooqLy, which has launched a new social network around entertainment treats in Greece and selected countries.Dimitris Mallios is also targeting Spyros Panopoulos' SPA, since he has been impressed by the team's vision for the creation of a large automotive industry in our country and other startups in the field of food delivery and supermarket items.
In any case, discussions such as the one we had with Dimitris Mallios make you even more optimistic about the business and investment future of Greece, since we need more than ever the repatriation of Greeks of the diaspora, especially in investments, since their experience and especially their network can act as a catalyst and multiplier in attracting other investors, talents and of course to give an even greater boost to the greek business ecosystem in Greece in general in a short period of time."We want all those who share the same vision with us, since obviously all this effort needs a strong team and of course synergies on many levels," Dimitris Mallios said closing our conversation.