Startup laundry app ZipJet launches first integrated marketing campaign across London, Paris and Berlin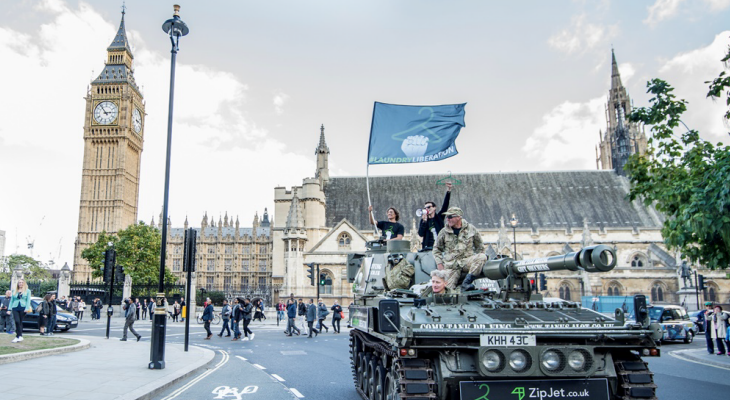 Laundry app ZipJet launches first integrated marketing campaign across London, Paris and Berlin
ZipJet declares #LAUNDRYLIBERATION day to boost brand awareness and drive sales across London, Paris and Berlin
The campaign saw an 800% increase in orders, as well as setting a record for customer acquisition since ZipJet's 2014 launch
Campaign goes live as ZipJet is shortlisted for Startup.co.uk's App of the Year awards 2016
October 2016 – ZipJet, the on-demand dry cleaning and laundry service, launched #LAUNDRYLIBERATION day across London, Paris and Berlin. The integrated marketing campaign spanned press, experiential, digital display, outdoor, PR and social media.
The stunt saw a ZipJet branded tank roll through the streets of London, surrounded by a troupe of professional dancers who performed choreographed routines outside the Royal Exchange and Houses of Parliament. Performance artists also conducted freeze mobs across strategic London locations to further amplify the activity. 
In Paris, the campaign – #FINILALESSIVE – visualised the end of the washing machine era by destroying washing machines inside a Zipjet branded truck, allowing the public to witness and participate in smashing up the machines with sledge hammers.
The Berlin campaign – #WÄSCHEREVOLUTION – saw emotional bright green branded washing machines dotted around the city, blaming ZipJet for their sad demise.
The aim of the revolution-inspired campaign was to encourage people to protest and rise up against the shackles of laundry with ZipJet. ZipJet invites its customers to order via its app or website. Customers can choose from a range of laundry, dry cleaning and shoe shining offerings, as well as convenient pickup and delivery slots. Once processed, customers' garments are then delivered clean and fresh at a time that suits. Garments can be cleaned, ironed, folded and delivered to customers in as little as six hours from pick up.
To support the London stunt, ZipJet activated a cohesive advertising campaign which saw 200-billboard posters appearing in high-footfall London stations for two weeks, carrying propaganda encouraging Londoners to join the ZipJet revolution and liberate themselves from laundry. Advertising also ran across high-reaching online publications such as Mail Online and included a Metro cover on #LAUNDRYLIBERATION day, heralding the dawning of a new era!
Digital integration included targeted social media advertising, SEO activity and SEM bidding. The influencer marketing campaign in Berlin and London saw the likes of Gilles Souteyrand and Charlie Irons posting events on the day to their followers across both cities.
By the end of #LAUNDRYLIBERATION day, ZipJet had attained a record number of orders across London. Paris and Berlin by significant margins and generated 800% of normal daily orders, as well as setting a record day for customer acquisition since ZipJet's 2014 launch.
Florian Färber, ZipJet's Co-Founder and Managing Director, commented: "With so much reliance on social and digital it was really exciting to activate this stunt in the real world, bridging online and offline channels in concert. The activity created a real sensation throughout our cities, illustrated by customer sign-ups on the day – a tremendous and record-breaking number we've achieved since ZipJet's inception."