Venture Catalysts Presents the Super Angels Summit, World's First and Largest Angel Investors Summit
The summit is scheduled for 15 & 16 December 2023 at the Abu Dhabi National Exhibition Centre.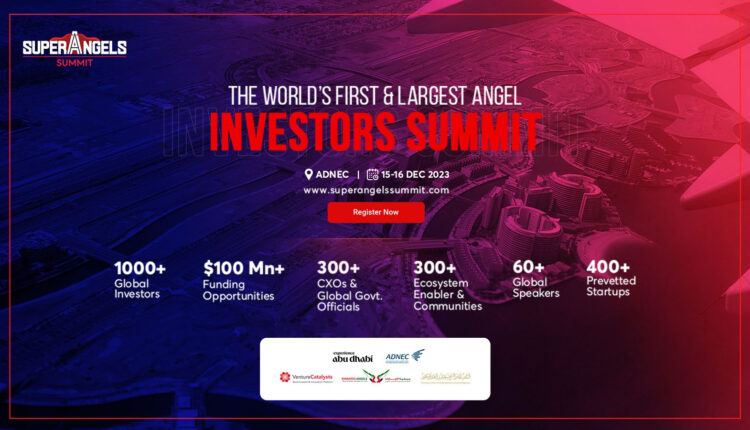 Venture Catalysts, India's first and largest early-stage investment firm, today announced the launch of the Super Angels Summit, a power-packed global summit for aspiring and active angel investors. The summit happening under the Patronage of Government of Abu Dhabi and Dubai is scheduled for 15-16 December 2023, at the Abu Dhabi National Exhibition Centre (ADNEC), Abu Dhabi.
Ravi K Ranjan, a veteran venture capitalist and Chief of Events & Partnership at VCats ++, has curated the summit to foster knowledge sharing, innovation, and cross-border collaboration. The event will feature 60+ global speakers, 300+ ecosystem enablers, 400+ startups, 1000+ investors, 300+ CXOs, and an exciting funding opportunity worth $100 million+ for startups from 100+ countries. The event will also host a Grand Business Expo for businesses to showcase their offerings.
Commenting on the upcoming event, Dr. Apoorva Ranjan Sharma, Co-founder and President, Venture Catalysts++, "Bringing SuperAngels Summit 2023 to Abu Dhabi gives us a tremendous opportunity to engage, explore, and further empower the startup ecosystem in the MENA region."
"SuperAngels Summit is a powerful platform for investors who are also visionary catalysts to help fresh entrepreneurs realise their potential. We are really excited to bring this summit to Abu Dhabi, the UAE capital, the fastest-growing startup ecosystem in the MENA," says Ravi K Ranjan, Founder, SuperAngels Summit.
Khalifa Al Qubaisi, Chief Commercial Officer at Abu Dhabi National Exhibition Centre (ADNEC), Part of ADNEC Group said, "SuperAngels Summit is a revolution in angel investing, setting the stage for investors to connect, collaborate and catalyse groundbreaking opportunities. It is a reflection of the transformational impact that angel investors have on the world of Startups."
"In the SuperAngels Summit, investors become visionaries, startups find their way," said Masaood Al Masaood, Chairman of the Board, Emirates Angels, "This summit will offer a unique opportunity to network with like-minded individuals, gain insights from expert panels and witness the birth of the next big innovations."
The Super Angels Summit also includes a one-day, invite-only offsite and networking event for VVIPs and Super Angels Golden Pass holders on 14 December 2023.
Source:  Business Wire