Taxibeat: Raises 4 Million Dollars to Expand Brazil Operations in World Cup Hosting Cities, Targets New Countries in South America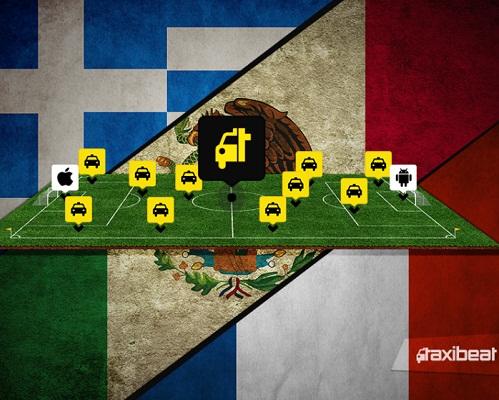 Greek taxi-hailing startup Taxibeat has secured an investment of 4 million dollars from Hummingbird Ventures, a seed and early-stage venture capital with offices in Antwerp, London and Istanbul. The investment was announced first on brazilian tech blogs and TechCrunch and it was later confirmed by Hummingbird partners on Twitter.
Taxibeat had so far secured around 3 million dollars from greek VC Openfund and private investors to develop a mobile application that allows users to see taxis around their position, the comforts they offer and give them a call. Taxi drivers accept or deny the call and when the ride is completed passenger are able to rate and comment on their driver, helping other passengers to make their choice when calling the available taxis.
Founded in Athens, Greece, in 2011, Taxibeat has also presence in Paris, France, Bucharest, Romania, Oslo, Norway, Mexico City, Mexico, Sao Paulo and Rio de Janeiro, Brazil.
The investment from Hummingbird will fuel Taxibeat Brasil operations in every FIFA World Cup 2014 hosting city and other cities in the country with transportation deficiencies, according to brasilian tech blogs. Taxibeat Brasil is aiming to have launched in World Cup cities during first half of 2014 and big part of the investment will be used to suspend the fee that the service is collecting from partnering taxi drivers (right now the fee is 2 brasilian real, around 0,85 US dollars).
Taxibeat has a strong presence in Brazil, according to data provided by Taxibeat Brasil to local media, counting 250k app iOS and Android downloads and having registered 15.000 taxi drivers in Sao Paulo and Rio de Janeiro (25% of the total fleet in those two cities, aiming to reach 30% by the end of the year after the fee suspension). In total, Taxibeat serves 40 million US dollars worth of transactions annually in the cities where it's active, while it's growing at a rate of 18% month to month, according to data provided by the founder Nick Drandakis to TechCrunch.
Except for Brazil, Taxibeat apparently takes a very specific focus on South America, with Bogota, Colombia and Lima, Peru being the next cities in the continent that the greek startup has chosen to expand its operations, according to greek business news portal EMEAgr.
With Colombia and Peru Taxibeat continues on the same proved-to-be-successful Brasil and Mexico model; instead of going after established taxi markets in developed european countries or in the US where already apps like Hailo or Uber and so on are already taking a big part of the market, Taxibeat prefers launching in countries with big but problematic taxi markets (unlicensed drivers, safety concerns etc.), allowing passengers and drivers to take advantage of the application's features, such as ratings and comments, to improve the local markets.