Swaplanet: Aims at bridge funding round of €250K
The sustainable fashion startup will use this investment to accelerate user growth and to introduce more sophisticated technology for back-end operations.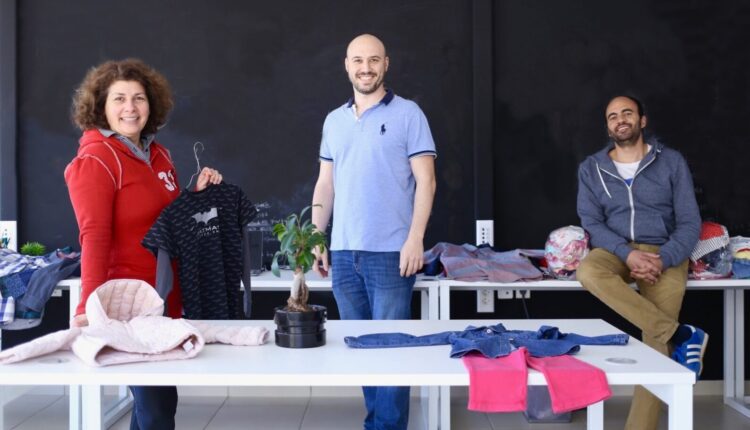 Swaplanet, the first online sustainable fashion platform in Greece, aiming to reduce clothing waste and how much parents spend on clothes, is raising a bridge funding round, of €250K. The Greek startup has dedicated a €100,000 ticket on SeedBlink, an investment platform for European tech start-ups, open until the 3rd of May. The sustainable fashion startup will use this investment to accelerate user growth and to introduce more sophisticated technology for back-end operations.
Swaplanet is solving the clothing waste issue by creating a streamlined process, helping parents swap their kids clothes for ones they need, planning to become the leader in circular economy. The platform has also enabled swapping of shoes and books and shortly will accept other short-life products such as toys and other equipment.
Swaplanet was founded in April 2021 by Sherif Barakat, Helena Stamou, and Jimmy Nicolaides, and launched in summer 2021. In this period, it has rapidly grown its client base to more than 10,500 signups and growing every day and is serving all Greece (even the most remote islands). The team has grown to ten employees and have received and sorted more than 80,000 articles of clothing from parents. More than 40,000 clothes have been uploaded to the platform and now 20,000 are available for swapping. Until today €160,000 worth of clothes have been sold via the platform with net revenue of €69,000.
"Swaplanet is a win-win solution for parents, kids, charities and our planet, and it's designed by parents, for parents" says Sherif Barakat, CEO and co-founder, father of two young kids. "We are excited to have received great customer feedback since launch, validating our vision and the need for such a solution. We want more parents to learn about how we can change their buying habits and we're pleased to have the backing of leading investors and industry greats to take Swaplanet to more families."
Swaplanet was backed up by leading investors Zeno Capital and Genesis Ventures, has also received angel investments from Hellenic Business Angels Network, and Acasia Angels from Egypt.
Swaplanet is raising on Seedblink to welcome European individual investors. Participating investors will bring a strong mix of experience in Greece and abroad, and several will act as advisors, assisting in our user growth, operations scale-up, and preparation to expand to three more European countries within 2024.
The textile industry is the second-biggest polluter in the world, responsible for 10% of global CO2 emissions (compared to 6% for plastics) and 20% of global wastewater.
Swaplanet is playing a real role in reducing this. In 2022, it sold 12,000 items of second-hand clothing, saving 86,000 Kg of CO2 (equivalent of 3,900 trees or driving 15X times around the world) and 15 million litres of water (equivalent to annual consumption of 120 households).
All clothes are individually sorted and washed by Swaplanet, to ensure every item is in excellent condition. The clothes that do not pass its strict quality control checks are donated to partner charities such as Fabric Republic and Khora Athens, while 2% of annual income is donated to we4All charity for reforestation and environmental education for children.
SeedBlink makes it possible for individual investors to make direct investments into top-tier, thoroughly screened tech startups, which were previously exclusively open to institutional investors and venture capital funds, allowing individuals to enter with the same terms.
The minimum ticket is 2,500 euro on SeedBlink, to accommodate in a very accessible way private retail investors. If you want to invest click here: Swaplanet is fundraising on SeedBlink.