Rockstart: Kicks-Off First European Smart Energy Accelerator, With 10 EMEA and International Startups Participating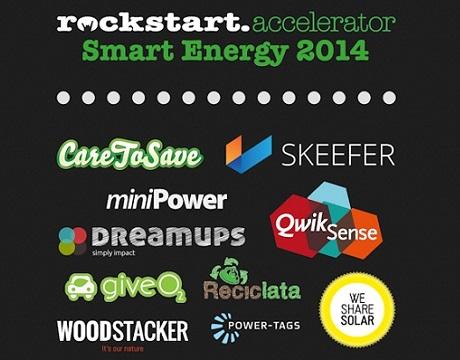 Rockstart Accelerator is kicking off on January 15th the Smart Energy program, the first of its kind in Europe, and earlier today announced the 10 selected startups that will attend the program's first edition.
Smart Energy accelerator selected companies coming from all over the EMEA region, from Norway and Netherlands to Greece and Israel, but also one startup is coming from Chile. According to the organisers, the accelerator received 130 applications from 39 different countries.
Applications for the Smart Energy Accelerator opened in September 2013 and after two selection days in Amsterdam in December, the program's selection committee resulted with the 2014 finalists from a shortlist of 20 startups. Smart Energy Accelerator focuses on supporting startups coming from renewables, smart building, recycling, energy saving etc. sectors, and according to the organisers the generated interest for the program reveals a global phenomenon.
"We can see a (g)local approach is very much needed to scale interesting innovations because of different regulations and legacy systems in different markets. It's not a 'one size fits all' business opportunity, but startups aware of that can use it to their advantage", says Yme Bosma, Program Director at Rockstart Accelerator Smart Energy, to EMEAstartups.com.
Smart Energy will offer to each one of its participants a cash investment of €20k, in-kind investment of €55k for office space, legal & fiscal support, mentoring, events, international road trip, deals, intensive coaching by 60+ mentors and more.
The program consists of two parts:
– The winter program (January – March): focused on challenging assumptions and product building while being coached by entrepreneurs, CEO's and experts in each startup's field. Culminates in a demo day, where participants will present their startup in front of an audience of over 200 professional investors, VCs, influencers, mentors and press.
– The spring program (optional; March – June): supports the startups in closing funding and features an international road trip to help orientate them towards the international market. Participants will visit interesting startups and innovative project sites, potential customers and partners, and will pitch to international investors with a global focus.
The 10 startups in Rockstart Accelerator Smart Energy 2014 are:
– CareToSave (Norway): smart metering meets gamification to teach kids how to save energy and helps reduce the household's energy bill in a fun way.
– Dreamups (Netherlands): a collaboration platform for the development of clean tech hardware, providing validation and accountability, preventing knowledge segmentation and lack of documentation.
– GiveO2 (Chile): monitors and tracks trips using your mobile device, providing a better understanding of your environmental impact and incentives to change it.
– miniPower (Netherlands): facilitates the replacement and exploitation of used wind turbines, giving them a second profitable life.
– Power Tags (Israel): an easy and low-cost way to make smarter use of heating, air condition and lighting systems in commercial buildings, using occupants' real-time location.
– QwikSense (Netherlands): provides organizations with actionable sensor data and analytics on how you can easily create a healthy working environment and save energy at the same time.
– Reciclata (Greece): changes the way we recycle, removing the problems that cause people not to recycle by adding game mechanics and a rewards system.
– Skeefer (Netherlands): makes energy intensive household appliances smarter and develops new ways of using and financing them.
– WeShareSolar (Netherlands): a platform for collective solar-energy initiatives, giving support by taking care of financing, contracting, administration and management.
– Woodstacker (Netherlands): develops modular and sustainable homes, enabling better health, smart use of energy, and new service concepts.
(image credit: rockstart.com)