Planday, the workforce management platform for shift-based businesses, today announces that it has raised a $14 million Series B round of funding.
The round was led by new investors Idinvest, and also included Creandum, the lead investor in Planday's Series A round, SEB Private Equity, and angel investor Arthur Kosten, co-founder of Booking.com.
In 2014, Planday raised a $3.75 million Series A round, and in 2015 received a further investment from angel investor Klaus Nyengaard. Since then, Planday has grown 100% year-over-year to over 100,000 end-users in 24 different countries, including the US, UK, Canada, Germany, Sweden, and Norway.
Planday will use the Series B funds to expand further into the US, strengthen its leadership in the European market, and develop integrations with other technologies that support shift-based businesses, including payroll providers, find and hire services, and Epos technologies.
Guillaume Durao, Investment Director at Idinvest Partners commented, "Right now the workforce management space consists of tools that are either too simple with only a few features, or overly complex systems that are difficult to roll out. After a thorough analysis of the global market, we've found Planday to be a uniquely feature-rich SaaS solution that is specifically built to address the complex needs of a mid-sized business and easy to use for both employees and managers".
According to Johan Brenner, Investment Partner at Creandum, "From the beginning, we've seen huge potential in Planday because many shift-based businesses – such as restaurants, hotels and fitness chains – use complex manual processes or spreadsheets to manage their employees' shifts. Planday's system gives the employees responsibility and power to manage time, and releases managers from tedious administrative work. Planday has the best product and a world class team to dominate this sector".
Since its launch, Planday has built a mobile-driven SaaS product, and has one of the largest mobile development teams in the industry. By working with technologies that employees and managers already use, Planday has delivered a product that is intuitive enough to scale across a business.
Planday has hundreds of customers in the UK in the hospitality, retail and leisure sectors which include leading London-based restaurants such as Ben's Canteen, The Lockhart and Big Fernand.
"Planday provides my team with a simple, easy-to-use time management solution that saves me an average of seven hours per week. It has significantly reduced the amount of admin work for managers, and the employees are happy with how easy it is to sign a contract or book a holiday in the system. The app has been a huge success among employees. It's created stronger communication and better engagement, which has significantly improved the way we operate on a day-to-day basis", said Mathieu Durand, Operations Manager at Big Fernand.
Planday has already seen their mobile strategy pay off in the use of their mobile app, which averages multiple logins per user, per day.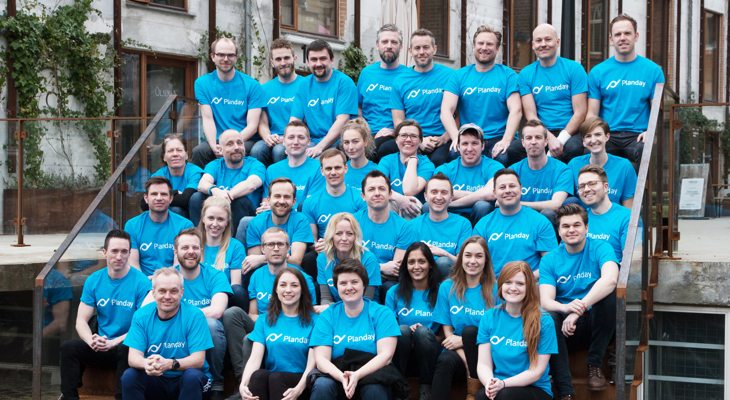 "With a smartphone in everyone's pockets, there's a huge opportunity to create connections between employees and businesses that didn't exist before. We want to help businesses move away from cumbersome, manual processes and into ways of working that make the interaction between hourly employees and their workplaces real-time and collaborative. That shift will fundamentally change the way employees find work and the way businesses operate", said Christian Broendum, CEO at Planday.
"We want to be a driving force in an emerging ecosystem that enables and empowers part-time workers. We will use this funding to partner with other key market players, including find and hire services, Epos, and accounting and payroll providers", said Broendum.
Planday has grown into a team of more than 80 people in five international offices, and with this investment plans to grow rapidly in all their locations. Learn more about the product at planday.com