PeopleCert: In a "mood" of acquisitions and a milestone of 10 billion dollars for 2022
Today the Group manages and develops a portfolio of best practice methodologies worldwide in IT and digital services management, conducting millions of tests in more than 200 reskilling and up-skilling countries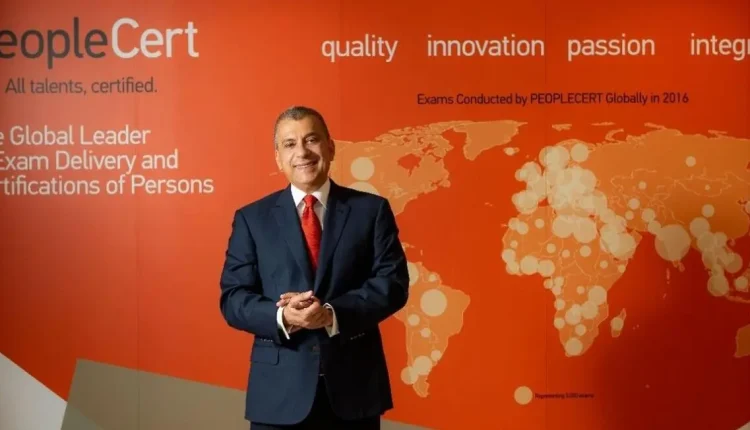 PeopleCert Group CEO Vyron Nikolaidis, in the wake of the biggest deal (worth 450 million euros) in the last 15 years by a Greek company in July last year, spoke of new acquisitions.
The company's goal is to become decacorn as well as to strengthen its leading position.
As Mr Nikolaidis pointed out (6/7/2022), addressing press representatives, "PeopleCert is already in discussions with companies that could offer it either a technological edge in the field of its subject (language certifications and project and process management), or that possess a framework, that is, a framework of best practice procedures.
According to him, the completion of the relevant discussions and the implementation of the acquisition – or acquisitions – is expected later this year.
The completion of the acquisition of the entire share capital of the British company AXELOS Limited, for a price of 450 million euros (£380 million), a year ago, took PeopleCert's valuation to above 1.1 billion euros and since then its very rapid growth rate of 40% per annum has also been reflected in its valuation level.
The business agreement of the acquisition of the British Axelos by PeopleCert was highlighted by Bank of America (advisor to PeopleCert) and the Global Banking & Finance Awards as the best Deal of the Year, Greece 2022, confirming, as Mr Nikolaidis stressed, that the company is strategically moving in the right direction, responding to the challenges of the global market.
It is worth noting that the Global Banking & Finance Awards reflect innovation, goal achievement, strategy in the global financial community by recognizing companies that hold a prominent position in specific areas of specialization and excellence.
"Our goal is for PeopleCert to contribute to Greece's reputation as a central investment destination and a global technology hub of best practices for skills development and upskilling," he said.
"We can turn Greece into a global example to be imitated. With the help of PeopleCert, Greek businesses and state organizations can optimize their performance and functionality, as does 82% of the companies that ITIL has adopted worldwide."
Today the Group manages and develops a portfolio of best practice methodologies worldwide in project management (PRINCE2) as well as in IT and digital services management (ITIL) and conducts millions of exams in more than 200 countries assessing professional and language skills.
Regarding the Group's growth strategy, Mr Nikolaidis said that it is based on four pillars.
Maintaining high growth and profitability rates: Continuing with a growth rate of 40%, we aim to strengthen our network with strategic partnerships, acquisition of companies, entry into new markets but also automation and efficient operation of our operations.
Development and enhancement of all products with emphasis on innovation, in order to meet the most modern technological needs. Conducting seamless exams worldwide and adopting modules that according to the latest trends address key issues of professionals and businesses, such as sustainability.
Digital Transformation, with the digital key channel for the promotion and distribution of products, we create a modern technology hub in Greece with IT professionals and experts.
Emphasis on our people. The 1000+ employees are our most important investment and we place particular emphasis on their continuous development in an environment of equal opportunities for all.