OTE's Satellite Communications Center was selected by KSAT for the world's first commercial optical-gateway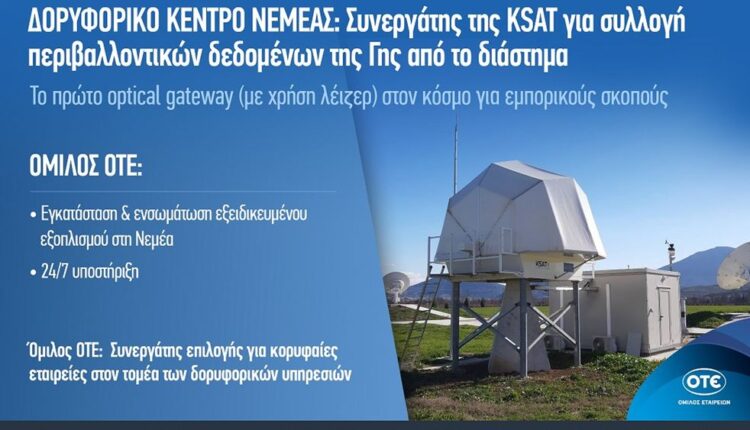 The OTE Group Satellite Communications Center in Nemea was chosen by Kongsberg Satellite Services (KSAT), a leading provider of satellite services and Earth observation, in order to install the first-of-its-kind antenna infrastructure that collects data from satellites (Optical Gateway) via optical signal (laser), for commercial purposes. Through this state-of-the-art infrastructure, KSAT will make land data and photographs available to world-class organisations involved in the management and monitoring of environmental data.
For the needs of the project, OTE Group installed and integrated the specialized equipment of KSAT at the Satellite Center in Nemea. With state-of-the-art satellite infrastructure and high expertise, OTE Group has undertaken the provision of infrastructure-as-a-service, the interconnection between satellites and the ground, as well as 24/7 operational support of the service by specially trained staff.
The use of a visual signal instead of radio frequencies, allows the collection of a larger amount of data from space via laser, in each passage of the satellite. As satellite communications require good weather conditions, without clouds, for earth-satellite communication, the area of Nemea is an ideal choice, with the chances of clear skies reaching 95% in the summer months.
"We are very pleased with the services offered by OTE Group, for the installation of our optical communications ground station in Greece, the world's first optical-gateway for commercial purposes. The project was delivered on time and met our high standards of requirements.", stated KSAT's Ground Station Manager, Vegar Skildheim.
"At COSMOTE we use technology to provide high quality specialized solutions and services to our customers, covering their needs. Thanks to OTE Group's state-of-the-art satellite facilities in Nemea and Thermopylae, our know-how and our trained staff, we are a selection partner for leading companies in the field of satellite services, such as KSAT. We are proud to be actively involved in a project related to environmental protection that leverages technology to build a sustainable future and a better world for everyone.", said Dimitris Nonas, OTE Group Sales Manager.
OTE Group provides satellite services through the Satellite Communications Centers "NEMEA" and "THERMOPYLAE", which are interconnected with international points of presence (PoP), through protected fiber optic routes of OTEGLOBE and are included in the most important satellite teleports in Europe. The provision of services is uninterrupted, through state-of-the-art infrastructure and under 24-hour supervision by highly qualified personnel.