Moxy: The greenest tech-savvy hotel has come to Athens
Moxy Athens City is addressed to fun-hunters who are looking for a fun way to stay in the heart of the city, combining innovative design and creative common spaces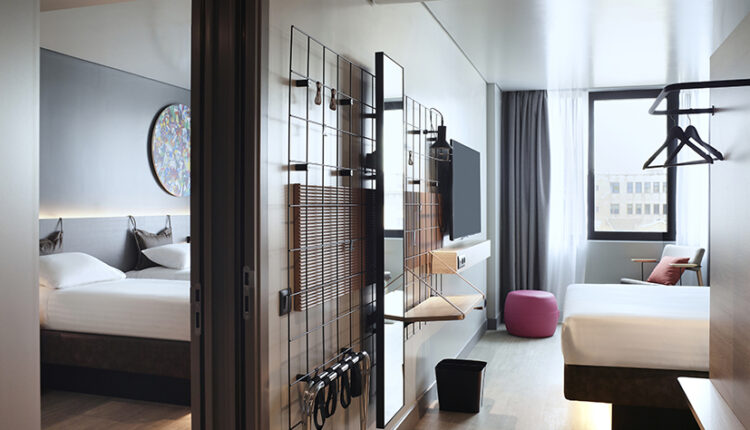 Moxy Athens City opened its doors, boldly reinventing the traditional hotel stay in one of the world's oldest cities. This new hotel will offer fun hunter travelers a playful stay in a city bursting with ancient history, vibrant culture and a thriving social scene. Moxy Athens City is located by Stadiou Street, the perfect starting point to discover the wonders of Athens from the Acropolis and the Parthenon to the picturesque neighborhood of Plaka. Just a short walk away is Syntagma Square and Ermou Street, where fun hunters can find shops, trendy restaurants and bars.
Upon arrival, guests are instantly welcomed into an immersive stay with check-in at Bar Moxy, complete with a complimentary "Got Moxy" cocktail. The buzzing bar is also a communal hub in the lobby where guests can socialise. Moxy's 24/7 self-service grab-and-go concept gives guests access to what they want, whenever they want, with options including snacks, fresh juice, coffee, wine and beer.
The hotel's 200+1 tech-savvy guestrooms feature walk-in showers, LED lighting and smart technology. A muted color palette serves as a base and is punctuated with bold colors seen in various furniture accents and wall art by Athenian, Street Artist B. For an experience like no other, the hotel's rooftop penthouse can be booked as a suite or private entertainment venue, offering expansive views of the Acropolis and beyond from its large terrace.
The architectural firms Kokkinou-Kourkoulas and Divercity Architects sought to inject dynamism, innovation and darling creativity into the historic Saroglion Megaron (the hotel's original building), where the city courts of Athens once stood. The exterior of the property has drawn inspiration from Goddess Athena's gift to the city: the sacred olive tree.
Another – important – innovation of Moxy Athens City is the LEED Gold certification, as it is the first "green" hotel in Greece that will receive this distinction.
Social and instagrammable public spaces come alive with a series of happenings designed to cater to travellers and locals alike to hang out with their friends and make new ones. Edgy graffiti-style walls also created by Street Artist B., brightly colored stools, and playful lighting create a vibrant yet relaxed vibe.
Behind this contemporary project stand prominent companies in their field, Dimand SA and Prodea Investments , as well as EBRD, while SWOT Hospitality, a leading company in hotel operation and development, has undertaken the management of the hotel.
"Following the first taste of the Moxy brand that we introduced to Greece through the Moxy Patra Marina, the first Moxy in the Mediterranean, it is time to bring to life the metropolitan version: the Moxy Athens City. The trendiest and most vibrant brand is setting off in the first green hotel building in Greece, placing its distinct mark on the Athens hospitality map through its unique architectural, environmental and esthetic features contributing to the regeneration of the Athens city centre. It puts emphasis on sustainability, a pilar in PRODEA's growth vision, and it is the new addition to a number of high-quality investments undertaken by PRODEA in the ever-growing hospitality sector, especially in our region,", said PRODEA Investments CEO, Dr Aris Karytinos
"We are very happy that Dimand actively contributes to the renewal of Athens city center, with this great investment. I would also like to thank the Army Pension Fund/ LAED, the Municipality of Athens, EBRD, Alpha Bank and Marriott International for their support and trust.", stated Dimand S.A. CEO, Mr. Dimitris Andriopoulos.
Moxy Athens City will be managed by SWOT Hospitality. "Moxy Athens City falls into a special category of hospitality. We are proud to be entrusted with the management of the newest, most modern and most technologically advanced hotel in Athens.", noted the CEO and one of the main Stakeholders Panos Constantinidis.
Moxy Athens City marks Marriott International's ninth hotel opening in Athens.