Metzeler: The new Extra Soft for extreme enduro makes its debut
The MCE 6 Days Extreme product line for enduro competition is enriched with the addition of a new rear specification in 140/80–18 size designed for the most difficult technical sections and harshest terrain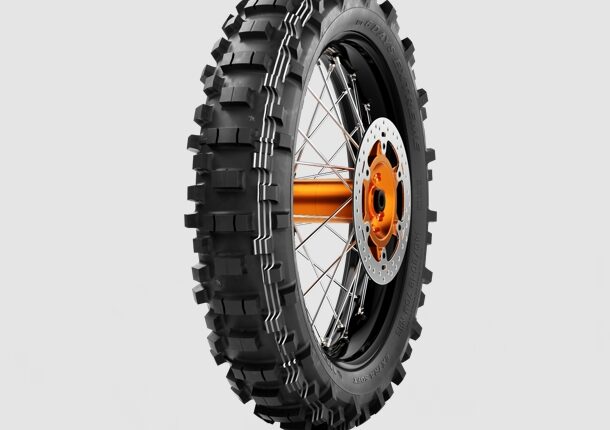 MCE 6 Days Extreme, Metzeler's family of tyres designed for enduro competitions, expands with the introduction of the new Extra Soft rear specification specially developed for extreme enduro races.
The new MCE 6 Days Extreme Extra Soft rear, in 140/80–18 70M NHS size, is a specialist tyre suitable for one-day competitions and special stages. It features a tread compound designed to guarantee maximum performance in extreme conditions from both a technical and environmental point of view, therefore effective even in very low temperatures. Thanks to the high level of grip, the Extra Soft allows riders to tackle even the most difficult obstacles and to restart easily even from a standstill, in the absence of a run-up. Furthermore, the very consistent overall deformation of the carcass guarantees a good level of comfort and makes it an easy tyre to use, even for less experienced riders.
MCE 6 Days Extreme Extra Soft
The Extra Soft specification, which visually stands out from the rest of the range due to the presence of three parallel white stripes on the tread, features a new layout of the knobs to ensure optimal performance even at high lean angles, less wear and greater resistance to fatigue. These characteristics are very important in extreme enduro competitions in which the tyre is subjected to cyclical and multidirectional deformations. The compound is also completely new, based on 100% Carbon Black and highly resilient, which means it is capable of absorbing deformation energy. It also has a very wide range of use: working even in very cold temperatures.
The Extra Soft completes the Metzeler range for enduro competitions, a discipline that has involved the German brand since the first decades of the last century. Developed together with the best riders and teams of the FIM Enduro and FIM Hard Enduro World Championships such as KTM, GAS GAS and Honda, the MCE 6 Days Extreme tyres have written pages of history in the most important enduro competitions and are chosen as original equipment by the best manufacturers for their off-road models.
MCE 6 Days Extreme range
Although they were designed for Enduro and Extreme Enduro World Championship riders, the MCE 6 Days Extreme tyres are also suitable for enthusiasts of the discipline who want to equip their motorcycles with high-performance tyres that make traction, versatility and resistance of the knobs their strengths.
The range of MCE 6 Days Extreme tyres includes a wide variety of specifications designed for different enduro applications and which allow riders to find the most suitable solutions for their needs. The front tyre is available in different sizes and in three versions: standard, soft and super soft. The rear is available in nine sizes divided between five different versions: standard, medium, soft, super soft and the new extra soft.