Lidl UP – Learn & Work makes the student an entrepreneur
The program is implemented by Lidl Hellas in collaboration with the public Experimental Institute of Glyfada and the Greek-German Chamber of Commerce and Industry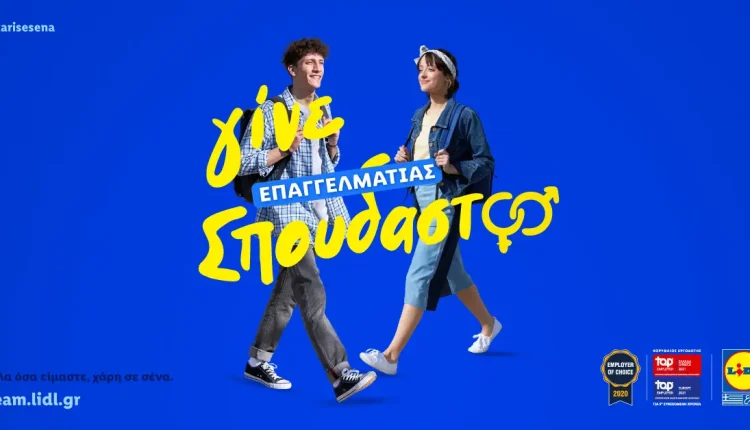 For the first time in vocational education in Greece, the pioneering Training and Work program Lidl UP: Learn & Work combines studies and training in practice, a certified degree as a "Retail Executive" by the National Organization for the Certification of Qualifications and Vocational Guidance (E.O.P.P.P.E.P) and a position of Deputy Director of Lidl Store waiting for its graduates.
Last February, the beginning of the first semester took place with students starting their theoretical courses at the public Experimental Institute of Vocational Training Glyfadas. At the same time, as early as March, Lidl Hellas welcomed them with great pleasure in its stores in Attica, where each of their mentors and the whole team of #teamLidl supports them in order to gain real work experience.
"With Lidl UP: Learn & Work we show in practice our faith in the new generation, giving space to young people without prior or minimal work experience, but with will and appetite for learning, to evolve without limits. At the same time, we are strengthening the Retail sector, preparing retail executives to be able to face future challenges.", said Nikoletta Kolombourda, HR Director and Member of the Board of Lidl Hellas.
Lidl Hellas supports the labor market with a plethora of innovative actions, providing young people with all the tools to grow and assume positions of responsibility through a dynamic working environment. Indicative programs are Lidl UP: Learn & Work, Lidl UP: International Trainee as well as Lidl UP: Purchasing Trainee, while the company is planning new programs to support the new generation for the near future.