Startupbootcamp HighTechXL is holding today its first Demo Day in Eindhoven, Netherlands, and Europe's first high tech accelerator announced HighTechXL│Fund, with a target size of €100mn, in order to support the most promising companies out of the accelerator program as well as other selected high tech startups.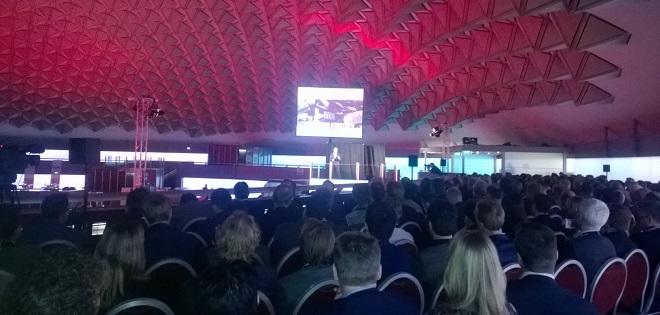 (Startupbootcamp HighTechXL's ongoing first demo day)
According to a press announcement, the HighTechXL│Fund will be run by Dutch Expansion Capital (DEC) and will be offering expansion capital and operational support to companies with game-changing sustainable innovations, operating in growing end markets The finance of Round A will based on the rigorous due diligence and supportive networks of the accelerator program and Round B will be providing financing to further help the expansion of companies.
Team DEC is a Dutch investment company founded by Eric van den Eijnden and Guus Frericks. Together with Patrick Gabriëls from EY and High Tech Campus Eindhoven they were able to co-found Startupbootcamp HighTechXL, the first hardware High Tech accelerator in Europe together with partners like Philips, NXP, ABN AMRO and BOM.
During the first program Startupbootcamp HighTechXL accelerator hosted 9 high potential startups from hardware technology with markets such as med-tech, semiconductors, energy, renewable energy, The Internet of Things and advanced materials. Of the teams that currently are in the Startupbootcamp HighTechXL accelerator 50% have already received investment offers with a total of €10mn. Today they are pitching to more than 500 investors from different countries including India, China, Singapore, Greece and The Netherlands on Demo Day in Evoluon, Eindhoven.
Also, High Tech Campus Eindhoven announced it's launching HighTechXL│Plaza in order to further accommodate the growth of HighTechXL Alumni and other early-stage companies. With HighTechXL|Plaza the Campus aims at expanding its support to early-stage companies, offering to them affordable offices, labs and services.
What should be taken into account is that when it comes to high-tech startups Eindhoven seems like a "dream" location, with FDIintelligence recent report ranking the city as the third European City of the Future for 2014-2015 only behind London, UK and Helsinki, Finland. With High Tech Campus and the University of Technology Science Park, Eindhoven ranked first in the FDI Strategy category for all small European cities, while its provision of "soft-landing" services, which allow investors to establish links and develop a base in the city helped Eindhoven to rank for the first time among the Top 25 European cities of the Future.