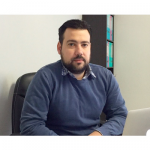 Funkmartini, the first beauty and fashion startup in Greece, raised funds over 200.000 euros from "angel investors".
This was the first round of funding for Funkmartini, trying to explore its network in Attica.
With Funkmartini, you can appoint beauty sessions from your PC, smartphone or tablet 24 hours per day, 7 days per week.
Grigoris Stamatopoulos, co-founder and CEO, said that he is very proud of achieving such a funding.
He added that counselling cooperation with Philipp Brinkman (CEO of Travelplanet24), Apostolos Apostolakis (advisor of successful Greek startups such as e-food, doctoranytime, taxibeat, nannuka, e-table) and Eleftheria Zourou, co-founder and CEO of doctoranytime offers Funkmartini the best experience needed for a successful development.