Epsilon Net: myDATA Hub ally of business to harmonize with the IAPR
Today, digital transformation and the adoption of digital infrastructures is a priority, both for the public sector and for businesses and freelancers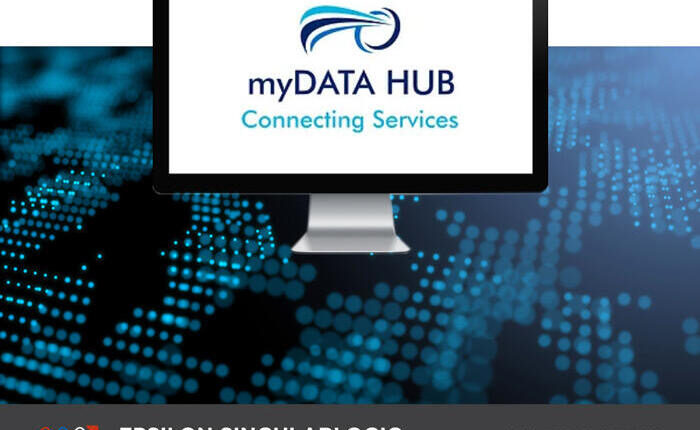 It is no coincidence that more and more companies, regardless of size and industry, recognize the necessity of digital transformation and integrate digital transformation practices into their corporate strategy on a daily basis, so that, guided by technology, they can ensure their sustainability and competitiveness.
Today, digital transformation and the adoption of digital infrastructures is a priority, both for the public sector and for businesses and freelancers. A decisive factor that contributed to this is the IAPR (Independent Authority for Public Revenue) with myDATA, the electronic platform that introduces e-books into the everyday life of businesses.
With the IAPR e-books, all Greek businesses and freelancers are required to transmit all transactions of Income / Expenses to the electronic platform myDATA, in order to automatically update their e-books, thus enhancing transparency and reliability between businesses and the Tax Administration and as a result a significant number of companies have joined the system
Undoubtedly, the digital transformation and adoption of e-books may sound a complex and time-consuming process, however, by choosing the right strategic partner and the right software that responds to the specificities of each industry, businesses and organizations can easily, directly and safely take their next digital steps, opening up new roads for development.
In this context, Epsilon Net Group, with a leading presence in the IT industry, is leading businesses with sure steps on the path of digital transformation. From his position of responsibility as a business leader in business software, with many years of experience and the largest installed base, with over 100,000 businesses, consistently strives to support entrepreneurship with solutions and applications that fully integrate the interconnection functionality with myDATA, so that businesses and organizations that choose them can continue their operation smoothly, enjoying better and faster organization of their processes and reducing their operating costs.
In addition, Epsilon SingularLogic, a member of Epsilon Net Group, adapting to the needs of the modern and constantly changing environment, constantly invests in innovation and offers myDATA Hub, an innovative SaaS solution fully harmonized with the e-Bookkeeping requirements of IAPR. The solution has been designed by Epsilon Net Group and Invoice Hub, a company founded by the partnership of ELMI Systems, OTS and High Technology.
myDATA Hub is addressed to all businesses, regardless of size and industry, and is compatible with any ERP application in the market. Developed in Microsoft Azure, it supports the interface with myDATA, on premise and on Cloud platform, allowing any business to align with fast, easy and low cost, while offering an easy and friendly interface ensuring the best user experience.
myDATA Hub, awarded with a silver award at the IMPACT BITE Awards 2021, in the categories "Introduction of a New Innovative Product / Service" and "Systems Integration" is the solution that businesses trust for their daily operation and interconnection with the IAPR.It is a solution that ensures to businesses and organizations that choose it, an immediate transition to the next day, since it is compatible with every ERP of the market, without requiring additional costly upgrades. In addition, it offers fast installation, as it requires very little time to initialize, while ensuring smooth integration into the business, without disrupting the flow of daily tasks.
At the same time, it works with automatic updates of versions in the Cloud, achieving full and continuous harmonization with every legislative change.
It is clear that Epsilon Net Group responds to the increased demands of businesses and organizations in the most modern way, constantly investing in state-of-the-art technologies that ensure transparency and trust between the business community and the tax authority.