Celonis, the European unicorn that offers business execution management systems solutions, announced that it is acquiring Lenses.io, a company of Marathon VC's portfolio. The amount was not announced, but reports indicate that it has exceeded 50 million euros.
Lenses.io was founded as Landoop in London in 2016 by Antonios Chalkiopoulos and Christina Daskalaki and in November 2017 Marathon invested 850,000 euros in it. In September 2019, it raised 7.5 million dollars from 83North and Marathon.
Before they started Lenses.io both held senior positions of software engineers in companies such as Barclays, Tesco, Marks and Spencer while at the same time the open source project Apache Kafka for the easy management of data flows that could be easily and simply integrated into corporate governance and day-to-day management made its appearance.
They immediately formed a team to provide consulting services and help companies adopt the possibilities of flowing business data from various sources in real time. They also began to contribute to the development base of Apache Kafka and provide free tools to "streamline" the operation of Apache Kafka and facilitate the development of applications on top of it.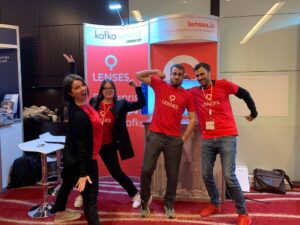 At the same time they decided to integrate the tools and create a platform ready for use for business executives to process data in real time. This later became the product known as Lenses. Within a few months of the product's release they had customers on the Fortune 100 list, a major achievement for a startup, something that makes makes obvious the great need of businesses to exploit and manage their scattered data and to develop the right tools. Lenses developed various partnerships with AWS, Microsoft, and Celonis.
Celonis is currently one of the most successful European software companies with a valuation of more than 11 billion and was founded in 2010 in Munich, Germany. Since then, it has been a leader in the market for managing corporate data mining and running corporate processes. Some of the largest companies in the world such as Uber, Dell, L'Oréal and AstraZeneca use Celonis to map their internal processes, optimize them and start reducing their costs in a short period of time. On the contrary, the same process can take several months and require a large investment in external consultants.
Following the acquisition, the Lenses.io team will be integrated into Celonis and will continue to develop the new version of the Lenses platform which will also be integrated over time into Celonis' Execution Management System.