Nikos Ioannou is one of the pioneers in the Greek Startup scene, especially in the field of food distribution, with Delivery.gr. After the recent Exit, it returns to the Greek Startup scene, and not only, with a very interesting project that aims to bring us closer even if we are far away! The important news is that brooqly attracted a large Seed investment from Dimitris Mallios, CEO of Aeon VC, an American fund with investments in Facebook, AirBnB and DoorDash. 
On the occasion of the opening of Brooqly in Athens and Mykonos, we spoke with Nikos Ioannou.
Startupper.gr: You have recently left the Mouhalis Group and Delivery.gr. Can you tell us a few things about this move? 
N. Ioannou: Delivery.gr has been the most important step so far in my professional career. All these years, since 2006 when everything started in Patras, until October 2021 when I left, it was for me a very "full", creative and interesting period and at the same time decisive. Let's not forget that 15 years ago, internet entrepreneurship was literally uncharted.Since then things have evolved and changed and although the closure of the circle has some emotional difficulty, you have to do it when you realize that your "child" has grown up and that you have to continue your journey. The environment is fluid and constantly changing. Personally, I am a person who likes to do business, to open up to new challenges and opportunities and take advantage of them.
Startupper.gr: brooqly was recently launched at club LOHAN in Athens. Can you tell us what this is about and how you are involved in this project?
N. Ioannou: Brooqly is a new social network essentially, which connects people through the "art" of treats. Through this you can connect with your friends but also make new ones, see which shop they are in, talk with them easily, get to know new faces in general and offer them a treat, whether you are together or not, as through brooqly you can treat or be treated, from distance. It is also important that this is a community of friends "clean" of promotional activities, which can be connected directly. I am the co-founder of brooqly and one of the main shareholders.
Startupper.gr: What is the Startup team and who are the main supporters? 
N. Ioannou: Apart from me, the Startup team consists of Panos Lazaretos and Eleni Maridaki. brooqly's main investor is Aeon.vc, an American fund with Greek-American Dimitris Mallios at the helm, with high-level investments such as Facebook, Twitter and Spotify.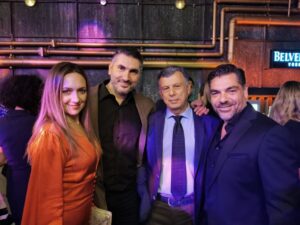 Startupper.gr: What are the basic characteristics of brooqly, how does it differentiate itself from any competition and how it intends to earn money?
N. Ioannou: Every new business proposal aims to respond to the needs of the time. What we all missed all the previous time is the connection, the contact and the moments of fun with our friends, to open up, to meet new people, to travel. brooqly is a new social network in the flow of which you only see the posts of your friends, but you also have the opportunity to meet young people who are not elsewhere connected and happen to be in the same physical place. The revenues are derived from the commissions of the partner stores. 
Startupper.gr: Can the course of the pandemic from now on affect the entertainment industry and by extension brooqly?
N. Ioannou: The truth is that a possible further negative course of the pandemic, which would lead to the closure of stores, will affect generally the applications that operate with the natural point as its center. However, the brooqly team is flexible and able to adapt to the new circumstances and possible subversios that arise in emergency circumstances. 
Startupper.gr: In which countries/cities does brooqly operate at the moment and how will it expand in the near future?
N. Ioannou: brooqly in Greece has started as a pilot in Athens and Mykonos as well as in Bucharest and Mamaia in Romania and is soon expanding in Brazil (Rio, Sao Paulo) as well as in America (Atlanta, Miami).
Startupper.gr: What other projects are in front of you and how do you intend to become even more active in the Greek ecosystem?
N. Ioannou: Within the medium-term plans of an experienced team in which I participate is to invest in talented Greek founders and innovative businesses at all levels of maturity, from Startups to more mature businesses with multifaceted schemes and financial instruments. The common denominator in all this, is always technology and innovation.