TheList: Pioneering Digital Transformation in Greek Hospitality
The Founder and CEO of TheList, Ali Kavousi, speaks exclusively to Startupper GR about how he managed to build one of the fastest growing Startups in Greece.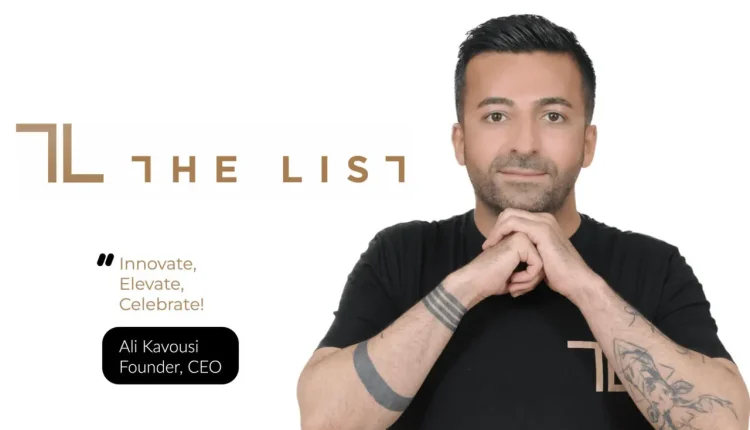 Navigating the world of dining and entertainment can quickly turn from a delightful anticipation to a stress-ridden ordeal. We all yearn for those moments of reprieve, a lovely dinner or a vivacious night out with friends. Yet, the reality often involves scrambling for reservations, navigating crowded venues, and settling for less than optimal experiences. Imagine a bustling Saturday night, your friends and you, ready to revel, only to be met with the daunting task of finding an available, desirable venue. This scenario, outdated yet oddly persistent in the 21st Century, highlights a significant gap in our digital advancement journey.
In a world where convenience is king and digital solutions reign, the hospitality industry has been curiously slow to adapt. The overwhelming majority of industries have embraced the digital era, streamlining their operations and vastly improving customer experience. But when it comes to hospitality, the echoes of archaic systems are loud and clear.
Enter TheList, a beacon of change and innovation. This groundbreaking platform is transforming the Greek hospitality landscape, ushering it into the digital age with flair and finesse. TheList is not just an app; it's a revolution, empowering you to take control of your leisure time. With a few clicks, secure the perfect table at a buzzing nightclub or plan an idyllic vacation, all tailored to your preferences, schedule, and budget. It's about time we bid farewell to the chaotic, cumbersome processes of yore, and embrace the seamless, empowering experience offered by TheList. The future of hospitality is here, and it's digital, sleek, and unequivocally user-centric. Say hello to TheList, where your perfect outing or dream vacation is just a tap away. Your unforgettable, hassle-free experience begins now. Welcome to the era of effortless enjoyment and unparalleled convenience. Welcome to TheList era.
The Founder and CEO of TheList, Ali Kavousi, speaks exclusively to Startupper GR about how he managed to build one of the fastest growing Startups in Greece in just a couple of years after the official launch of the app in 2021. It is worth mentioning that TheList is one of the few Greek companies that has managed to expand to the UAE, one of the biggest markets in the world.
Ali Kavousi, the driving force behind TheList, shares the astonishing growth and reach of the platform with palpable enthusiasm. "In an incredibly short span, TheList has formed robust partnerships with over 800 elite venues across the UAE, spanning Dubai, Abu Dhabi, and beyond. We take immense pride in collaborating with iconic establishments in famed locales like Palm Jumeirah, Atlantis Hotel, and Burj Al Arab, integrating the crème de la crème of brands within our innovative app."
"Our network doesn't stop there; it boasts over 1,100 prestigious brands in Greece and the UAE. Despite our relative newness in the market and modest size, we've managed to secure ties with global giants in the hospitality industry. Our app proudly hosts the COYA group, Zuma group, Bagatelle, and in Greece, coveted names such as Scorpios, Noema, Santana Group, Namos, and Nobu. These are not just names; they are titans in the industry, synonymous with success, luxury, and unparalleled experience. And they have all found a home on TheList."
"Join us in celebrating this journey of transformation, as TheList continues to redefine hospitality, making every outing an occasion to remember, ensuring convenience, and luxury are always at your fingertips. TheList – where your next extraordinary experience awaits."
Startupper: How did you come up with the idea of TheList?
Ali Kavousi: The inception of TheList dates back to 2017, marking the beginning of a thrilling and tumultuous journey. The initial phase was filled with its fair share of ups and downs, where the quest to assemble the perfect team and surmount developmental hurdles was paramount. Despite these early challenges, a trial version of the app was successfully launched in August 2020. This beta phase allowed close friends and company associates to explore and experience the app's functionalities within a select number of restaurants.
The anticipation for the official launch was high, yet as fate would have it, a second lockdown in Greece pushed our grand debut to 2021. Navigating through these unprecedented times and delays allowed for further refinement and enhancement of the app, ensuring its optimum performance and user satisfaction. Now in 2023, as we celebrate our second official summer, TheList stands as a testament to resilience, innovation, and the undying spirit of progress, continually striving to revolutionize the hospitality industry in Greece and beyond.
Startupper: Since the app was officially launched, you have managed to become the top reservation platform in Greece and you have a really impressive growth. Actually, you are one of the fastest growing startups in Greece. How was your journey to have been, and how did you manage to get to this success?
Ali Kavousi: Navigating the initial days was indeed a mammoth task, made all the more demanding in light of the global pandemic. Despite the harsh reality of our first summer – with the hospitality sector still grappling with the new normal of restrictions and limited operations – our resolve stood unshaken. The industry was steeped in uncertainty, with many venues operating in a limited capacity and skepticism prevailing around the future of nightlife and dining establishments.
However, 2023 brought about a refreshing change. People were venturing out, traveling, and regaining their freedom, breathing life back into the industry. Amidst this rejuvenation, TheList emerged as a beacon of innovation and convenience. The initial doubts and hesitations from various sectors couldn't deter our journey. Our unwavering commitment to enhancing the hospitality experience propelled us to overcome these challenges, solidifying our position in the market.
Our expansive growth speaks volumes. Today, we have collaborations with over 800 top venues across the UAE, and a burgeoning partnership with over 1,500 brands in Greece and UAE. This is a staggering accomplishment for a newcomer in the industry. The inclusion of global giants like COYA group, Zuma group, Bagatelle and more alongside local heavyweights such as Scorpios, Noema, Santana Group, and more underscores the diverse and elite offering of TheList.
Despite the initial skepticism about the app's adoption within the local Greek market, the overwhelming response from our Greek users, constituting the majority, is a testament to TheList's utility and effectiveness in planning outings and vacations. Our unwavering dedication to enhancing the user experience, coupled with constant learning and adaptation to industry trends, has been pivotal in our ascent.
In reflecting on our journey, it's the relentless pursuit of excellence, a robust team synergy, and an unyielding commitment to our vision that has enabled our growth and success. The past may have been characterized by uncertainties and challenges, but our trajectory remains firmly set on expansion, innovation, and elevating the hospitality experience globally. TheList is more than just an app; it is a transformative force, revolutionizing the hospitality landscape and pioneering a new era of convenience and elegance in outings and vacation planning.
Startupper: How many users do you approximately have in the app? What is it like to collaborate with such big venues? Were they interested themselves to be included in the app?
Ali Kavousi: Currently, we boast over 100,000 downloads across iOS and Android, translating to more than 50,000 active global users, a mix of both locals and international visitors given Greece and the UAE's touristic allure. By the end of September, we project this number to soar to over 70,000 active users.
On collaborating with big venues, it certainly presented its challenges. These sought-after places are consistently sold out, with waiting lists and queues visible even from outside. They didn't necessarily need an app like ours for reservations or collaborations; they were thriving independently. However, we addressed this by targeting and solving their specific pain points, particularly organizational issues and reservation team inefficiencies that were impacting their revenue.
Our approach was different from other companies that approached them. We provided tailored solutions, demonstrating how we could enhance their clientele management and boost their revenue further. We offered them a trial period to experience our app's benefits firsthand. Their positive feedback and eagerness to integrate their other restaurants into our app underscore the value we bring to their businesses.
This achievement is not just a testament to TheList's effectiveness, but also to our keen understanding of the industry's intricate dynamics. Our solutions not only benefit our users but also add significant value to the venues we partner with, ensuring a symbiotic relationship that drives continual growth and success for all parties involved.
Startupper: On of the things that is worth mentioning about ΤheList is that not only you can book a place, but you can book the table as well. Because before The List booking procedure in the hospitality sector was described as a total chaos.
Ali Kavousi: This table-booking chaos is not just a Greek issue but a global one. Despite the digital transformation that swept through numerous sectors in the past decade, the hospitality industry has astonishingly remained outdated. We've carried over the age-old practice of making phone reservations from our great-grandparents, a method inadequate for today's fast-paced world, especially for coveted spots like nightclubs and beach venues where connections often dictate the reservation outcome. This lack of evolution in a $7 trillion market cap industry, which is integral to our daily lives, astounded me.
TheList revolutionizes this aspect by instilling order and ease into the booking process. Our innovative floor plan feature puts the power in users' hands, allowing them to select their exact desired table, view the minimum spend, and make an informed decision based on their budget and preference. They can confidently secure their reservations using various payment platforms, eliminating the uncertainty and hassle traditional booking methods entail.
I've witnessed the frustration first-hand, with couples arguing at entrances over missed opportunities for the perfect spot, turning what should be enjoyable outings into stressful ordeals. Our app eradicates this issue, ensuring users can seamlessly plan and enjoy their outings, whether it's to a restaurant, nightclub, or beach bar. They can view prices, menus, and even venue zones if a floor plan is unavailable, providing an overall view and control that other platforms lack.
Our commitment is to continue enhancing this seamless experience for our users, ensuring they have access to not only the best venues but also the best reservation experience, contributing to enjoyable and stress-free outings. The overwhelmingly positive feedback from our users attests to the effectiveness and necessity of our app in the evolving hospitality industry.
Startupper: In general we can say that TheList brought a big revolution in the hospitality industry because you can book your vacation, your nightout or anything else you want in just a few seconds, and you can have way easier access to the most exclusive venues
Ali Kavousi: Absolutely, I couldn't agree more. TheList is not just about booking a table; it's about streamlining and simplifying your entire vacation planning process. Consider a scenario where it's the peak holiday season in July or August, and you plan to go island hopping to a destination like Santorini with your family or friends. You've arranged your accommodation and travel, but the uncertainty of what comes next and budgeting concerns can overshadow the excitement of the holiday.
"How much will I spend for a week in Mykonos or Santorini?" This is a prominent concern for many. Nobody wants to fritter away their precious vacation days in the hassle of finding suitable venues, dealing with promoters, or relying on hotel reception suggestions. Moreover, unexpected expenses can spoil the entire experience. TheList alleviates these concerns, offering you a detailed insight into various venues directly on your smartphone, making you feel like a true local. You can explore venues, scrutinize their prices and menus, compare, and make informed decisions for advanced bookings. By the time you check into your hotel or villa, your entire plan is set, and the feeling of assurance that you will not face unexpected charges provides a sense of security and peace of mind.
Greece is indeed a magnificent country, and Athens, a beautiful yet intricate city. To genuinely enjoy what they have to offer, one needs to have local knowledge or know someone with local insights. TheList bridges this gap, ensuring that every traveler, irrespective of their familiarity with the locale, can enjoy a seamless, enjoyable, and fair experience. The app stands as a guarantee that your trip will be as planned: organized, within budget, and filled with the best experiences the city and country have to offer.
Startupper: Exactly, and I was going to ask that because the list is often described as the app that makes foreigners feel like locals, because but going through the app you have all these options, all these suggestions as well. I actually helps you have a more in depth experience at the places that you visit
Ali Kavousi: Absolutely, the feedback I've received resonates with this description. One of my favorite aspects of this journey is actively reaching out to our users for their insights. Hearing positive feedback from people worldwide, whom I have never met, energizes our mission. Users have shared that they previously relied on different apps, but upon discovering TheList, they now coordinate all their bookings through us. This shift is phenomenal to witness.
As a foreigner living in Greece, I've personally navigated the same challenges. During my initial years here while pursuing a Bachelor's in Business Management and Administration from BCA College, I believed I had fully explored Athens. Yet, it astonished me when, after three years, I uncovered the southern regions like Glyfada, Voula, and Vouliagmeni. This revelation is a common experience for many foreigners, especially tourists in a country that welcomes approximately 30 million visitors annually.
Ensuring these tourists have an exceptional time is pivotal, fostering their continual return to Greece. We view it as our responsibility to showcase Greece's splendor and contribute to its promotion globally. It's noteworthy that our success, in terms of user acquisition and downloads, has been achieved organically, through word of mouth, without any investment in marketing. This grassroots growth underscores the authentic value and impact TheList is imparting to users worldwide, enhancing their Greek experience.
Startupper: The users can also make reservations about big events through the app, right? We know that you have hosted some really big events with some of the biggest artists in the world, like Tyga and 50 Cent.
Ali Kavousi: You are absolutely right, and it's indeed a significant milestone for us. Last summer marked our initial official season, and it was extraordinary to feature such prominent events on our app, a feat we hold in high regard. The opportunity to host artists of the caliber of 50 Cent, Tyga, French Montana, Black Coffee and more on TheList exemplifies the extent and reach we are aiming for. Providing users with the exact layout of the events, down to the table arrangements, and enabling them to easily select and book with a simple tap, underscores the seamless and inclusive experience we are committed to delivering through TheList. It was an exhilarating experience to seamlessly integrate such high-profile events into our platform, further validating the utility and appeal of TheList in offering unparalleled access and convenience to our users worldwide.
Startupper: Do you plan adding any AI tools to your app?
Ali Kavousi: Indeed, this is a domain we are ardently exploring. Our investment in AI and machine learning is robust and ongoing. We envision leveraging these advanced technologies to deliver a seamless, personalized, and even more intuitive experience for our users. Our ambition is to harness the power of AI to anticipate and adeptly respond to our users' preferences and needs, ensuring that TheList continues to evolve as a cutting-edge platform that consistently exceeds user expectations. The aim is to make every interaction with TheList not just a transaction but a tailored experience, enhancing the convenience and pleasure of planning and booking outings and events.
Startupper: What are your plans for the future? Do you plan to expand in other markets? Are you interested in raising money?
Ali Kavousi: Our ambition has always encompassed a global reach. In fact, we pride ourselves as one of the few Greek startups to transcend European borders and establish a foothold in the UAE, undeniably one of the world's most lucrative markets. Our continuous growth in this region is a testament to our global aspirations. Expansion within the Middle East and penetration into selected markets in Europe and the United States form the crux of our future growth strategy.
On the investment front, we have been approached by numerous entities, ranging from notable corporations in Switzerland expressing acquisition interests, to well-established Greek entities and venture capitalists extending investment offers. Despite these opportunities, we have maintained our bootstrapping approach. Our search is not confined to financial infusion. We seek a comprehensive partnership, a collaboration with a team that resonates with our vision and contributes meaningfully to our accelerated growth. Our goal is to align with a partner who brings not just capital but substantial value and insight to propel our growth trajectory.
In essence, while we remain open and grateful for the consistent interest from various quarters, our emphasis is on securing a holistic partnership that augments our organizational objectives and long-term vision. A deliberate and well-considered fundraising round is indeed on the horizon, as it forms an integral component of scaling operations and realizing our expansive global vision.