In just a few years, Orfium has managed to be establish as the largest ally of the global music industry, maintaining its "heart" and 120 employees in total in Greece, while recently it was awarded the 1st National Award "Start-up of the Year" of Elevate Greece.
In an industry such as music, which has been undergoing a rapid transformation due to technology in recent years, the problems that arise are not few: perhaps the biggest of these are the use of unauthorized works and copyright management, two issues that affect both artists and record companies. These are problems that have been plagiarizing this industry for years and are now becoming "gigantic" with it, making the people of the field look fervently for solutions.
This is where Orfium, a startup based in Los Angeles and Athens, comes in and simplifies things, making it easier to identify and manage rights from using music more easily than ever before. Orfium was founded in 2015 by Drew Dellis and Chris Mahoney initially as a digital music platform on the model of Soundcloud and then with the contribution of Michael Petychakis as CTO and Rob Wells (for 8 years head of Digital Business of Universal) as CEO, decided to deal with the development of technologically advanced solutions to identify musical works on online platforms, with an emphasis on the largest and most complex of them, YouTube.
This decision, as it turned out in retrospect, was a checkmate, as it brought to the industry exactly what it needed. It is no coincidence that Orfium today is the fastest growing technology company in its field and serves, as we will see below, some of the largest brands in the world.Using state-of-the-art technologies such as artificial intelligence, the company identifies musical works of the beneficiaries, even where no one else can locate. It manages to find content that is used in any form on the internet and to ensure that its creators will be paid fairly and on time.
It thus contributes decisively to the management and protection of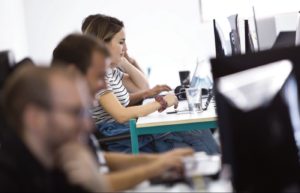 music copyrights and to the increase of revenues resulting from the use of protected works. This, combined with its flexible business model, make Orfium a go-to option for organizations and companies of the field, especially today, at a time when the pandemic has imposed new unpredictable rules on the game.Some of the companies that Orfium has "won" are music publishers, such as: Sony ATV, Warner Chappell, EMI, Kobalt, and record labels such as: Warner Music Group, Sony Music Entertainment and Red Bull Records.
These names may be enough to understand the success that the startup records, but there is a lot more interesting "evidence". It is worth mentioning, for example, that with its activity, Orfium contributes approximately 200 million euros revenue growth to its customers, with a corresponding increase of 40%, from the detection of "orphan" content, while serving 60% of the global market. Added to this is the multiplication of revenues generated by contracts it manages in full. Indicative of Orfium's success – as in any Startup – is its team.
Orfium has seen its workforce increase from 4 people in 2015 to a total of 200 people in 2020, in Greece, USA and the rest of Europe. Orfium's headquarters are located in Los Angeles, but the heart of the company, the R&D department, is located entirely in Athens employing 120 people. The Greek section is estimated to employ more than 300 people in the next 4 years and some of the best professionals in the field.
Applying a human-centered work culture in practice, based on principles that encourage autonomy, creativity, initiative, participation and respect for diversity, Orfium has managed to integrate top talents within it while the search for them never seems to stop. The company is mainly addressed to software engineers and algorithm engineers, offering possibilities of development and development in a working environment with international specifications and global impact.
It is worth noting here that at the heart of this search is Greece, which not only has well-trained staff, but also combines a number of factors that make it an ideal hub for the company.As Orfium tells Startupper Mag, the positive economic climate, the very good digital infrastructure and the standard of living were some of these factors, to which were added later the smoother, compared to other countries, evolution of the pandemic and the evolution of Greece in terms of approaching technology.
If, along with all this, one takes into account the fact that the copyright landscape in Greece has been through difficult times in recent years, Orfium's presence here is more than necessary. This is something that the company knows and that is why it intends with its technology but also with the know-how it has acquired to contribute to the reform and modernization of the landscape of collective management in our country as well.After all, as the founding group says, technology alone contributes greatly to transparency, fairness and speed in the collection and distribution of rights to the beneficiaries.