Oral-B Launched an Improved Application that Connects with Your Electric Toothbrush (Video-Interview)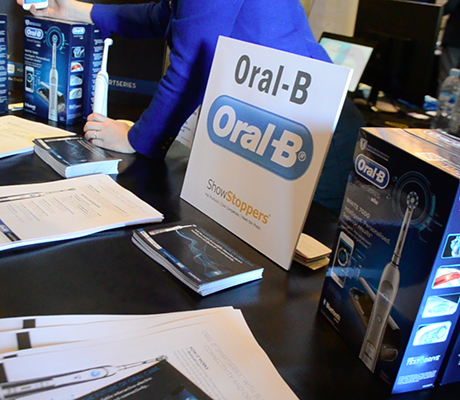 Procter & Gamble's Oral-B unveiled during Mobile World Congress 2015 improvements to its app that connects to its highest performing toothbrushes, by creating seamless brushing routines and allowing for expanded professional guidance.
The new version features Dental Care Journeys and Professional Guidance.
Dental Care Journeys
– Each personalized Dental Care Journey is tailor-made to help users' achieve their oral care goals, including whiter teeth for an upcoming wedding, or fresh breath for food lovers.
– The journeys deliver a more active and engaged brushing routine for a pre-designated period of time, and also offer recommendations for corresponding products to match each journey
– Users can select among five journeys: Fresh Breath, Plaque Fighter, Whitening, Gum Health or Ortho Care.
Professional Guidance
– A dental professional can add extra brushing time for certain focus areas in the mouth, select dental conditions and provide specific brushing and interdental cleaning instructions for his/her patient to follow at home.
– A dental professional can provide product recommendations via the App, selecting products based on their patients' specific needs.
– Patients can share their compliance statistics with their hygienist and dentist via e-mail, as a way to track and discuss improvement areas and help advance their oral care routines.
Additionally, Oral-B announced the opening of the Oral-B App's Application Programming Interface (API) and Software Development Kit (SDK) in October 2015 for third parties.
Since the SmartSeries and Oral-B App's debut at Mobile World Congress last year, the Oral-B app data shows that company's electric toothbrush users are now brushing on average 2:24. This increased from less than 60 seconds with a manual toothbrush. Additionally, over half of the recorded brushing sessions included flossing, rinsing, and tongue cleaning. Through a combination of these statistics and consumer feedback, Oral-B can deduce that with real-time feedback, users are encouraged to brush longer, with less force and more in-line with their dental professionals' recommendations.
On the video below, P&G's Maria Alejandra Apostoli presents for EMEAstartups.com the new version of Oral-B's application during the ShowStoppers event at MWC 2015