Ministry of Tourism and Google: Cooperation for the sustainable development of SMEs
In this context, Google.org will finance with 1 million dollars the organizations that support social enterprises in sustainable tourism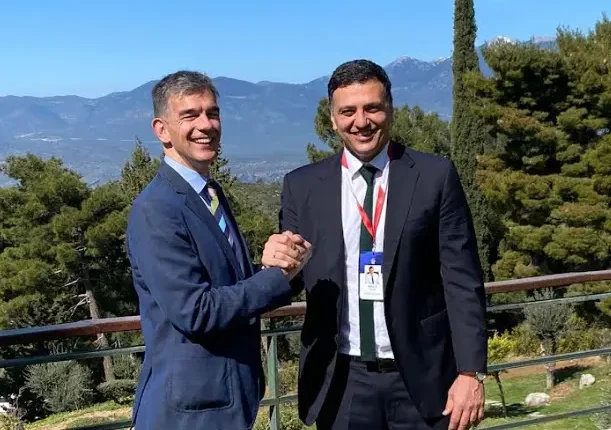 The Ministry of Tourism and Google announced, in the framework of the Delphi Economic Forum, their new partnership to accelerate the green and sustainable transformation of Greece's tourism industry. The cooperation includes the creation of a new training program for small and medium-sized tourism enterprises, in collaboration with the Global Sustainable Tourism Council (GSTC). At the same time, Google has announced funding of 1 million dollars from Google.org to support organizations that help social enterprises in Greece, with an emphasis on sustainability and ecotourism.
The transition of the Greek tourism industry to a more sustainable and environmentally friendly development model is a key priority in addressing the inevitable consequences of the climate crisis.According to a new survey conducted by the Research Institute for Tourism (RIT) on behalf of Google and the Hellenic Chamber of Hotels, three out of four hotel owners consider the implementation of sustainability practices critical to the future of their business, with 79% expressing their interest in obtaining sustainability certification. However, only 41% consider their level of knowledge of sustainability practices to be satisfactory.
Based on the above findings, the new training program of the Ministry of Tourism and Google, in collaboration with the World Sustainable Tourism Council (GSTC), will be launched in April and will be available at no cost. Its aim is to support small and medium-sized tourism enterprises on their path to sustainable development.Key features of the program, which is a new pillar of Google's "Grow Greece with Google" initiative, are the effective communication by businesses of their environmental actions, the creation of a strategy for sustainability, the acquisition of sustainability certification, the exploration of sources of funding for small and medium-sized tourism enterprises, as well as the learning of best practices for energy and water saving and rational waste management.
In addition, Google.org, Google's philanthropic arm, is offering 1 million dollars to support organizations that help social enterprises run by underrepresented communities and that focus on sustainable solutions and ecotourism in Greece. This support comes at the right time, as, according to a survey by Euromonitor, more than 70% of travellers around the world were more interested in sustainable travel opportunities in 2021 (compared to 2020) and which even stated that they now seek to continue them. Through a careful selection of projects by one or more beneficiaries, which will be announced later this year, funding from Google.org will ensure that social entrepreneurs from underrepresented communities and remote areas of Greece have the opportunity to participate in the creation of effective solutions that will benefit their communities.
"Our strategy to shift the country to a sustainable tourism model, beyond the government's actions to achieve sustainability goals, passes through similar partnerships as the one we announce with Google. Through the educational program, tourism professionals become partakers of this effort, while the commitment to strengthen institutions and social enterprises dealing with sustainability mobilizes wider groups in a common effort for the future of Greek tourism.", said the Minister of Tourism, Vassilis Kikilias.
"Sustainable tourism has never been more important than today – for both travellers and the planet. This transition, especially for small and medium-sized enterprises, is complex, which is why we support it in practice through our products, initiatives and the funding we offer. Our cooperation with the Ministry of Tourism is based on our broader commitment to support sustainable development in Greece.", stated Google's President in Europe, Middle East and Africa, Matt Brittin.
According to the CEO of GSTC, Randy Durband, "in order for tourism businesses to operate in terms of sustainability, their staff should be aware of what this means and be committed to the continuous expansion and improvement of their knowledge. In this respect, GSTC is very pleased to support Google's efforts to offer such opportunities to the tourism industry."