Pollfish, a Greek-based mobile survey platform raised a Series A funding of 2,2 million euros, at a round that was led by Odyssey Investment Partners, PJ Catalyst, Woodside Group and many angel investors. The startup had raised 200.000 euros in a seed funding round, from which the 150.000 euros was from PJ Catalyst and the rest from a series of angel investors.
Pollfish was founded in September 2013 by John Papadakis, Andreas Vourkos, John Zaoudis and Zisis Bellas and has created a platform that lets anybody push a survey or poll out to mobile app users.
Pollfish provides real-time quality insights ranging from enterprises such as Mercedes, Mondelez, Deutsche Telekom etc., researchers such as OMD and Millward Brown and small-medium businesses for simple day to day decisions. Pollfish surveys run on something more than 8.000 mobile apps, both on Google Play and the Apple AppStore and its reach overcomes the amount of 120 million users!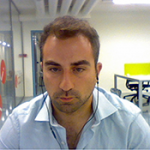 As John Zaoudis, CTO and co-founder of Pollfish stated: "With the new capital we will fund our aggressive expansion in the US market and at the same time we will develop new products that will connect metadata with the mobile device. For example, we will have quite accurate data about the fact that the users of the "X" mobile brand are more into sports that others of the "Z" brand! As you can understand, this kind of data are a real… gold-mine for companies!".
Pollfish is planning to… reshuffle its business model, in terms that the operations and marketing departments will be runned from its US offices and the product development will continue to be based in Athens, Greece.