Flat Mini-PC Barebones for the latest LGA1700 processors
Space-saving 1.3-litre PCs for the requirements of today and tomorrow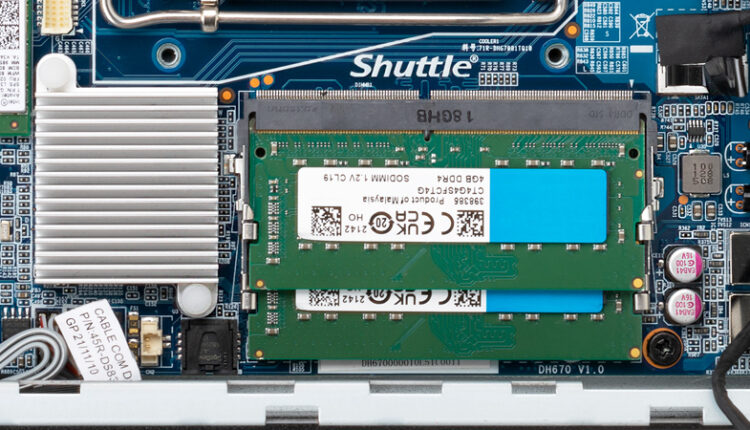 These three Mini-PC solutions are competing to become your enduring daily companion in almost any setting. They score points for their small size, support for the latest processors, lots of RAM, great compatibility and numerous expansion options.
For Intel Core processors of the "Alder Lake" series
Up to four UHD displays can be connected
Two slots for up to 64 GB of RAM
Network connection with 2.5 Gbit/s
The Mini-PC Barebones from the "XPC slim" category from the Taiwanese manufacturer which are presented today feature a Shuttle mainboard which has been specially developed for this format with the CPU socket LGA1700 and thus support Intel's 12th generation of the Core Desktop processors. With two SO-DIMM slots and therefore up to 64 GB of RAM in total, these models can handle any demanding tasks. The M.2-2280 slot is suitable among other things for NVMe SSDs with a PCIe-x4-3.0 interface and WLAN cards, for example, can be inserted in the M.2-2230 slot.
The first machine is the XPC Barebone DH610S, which impresses with Dual-UHD display support (1× HDMI 2.0b, 1× DisplayPort 1.4). This is followed by the DH610 model which can handle demanding network applications thanks to 1× 2.5 Gbit and 1× 1 Gbit network port. In addition, it is suitable for up to three UHD displays (1× HDMI 2.0b, 2× DisplayPort 1.4) and offers two COM ports. The top model is the XPC Barebone DH670, which also has two network connections and COM ports, but also features 2× HDMI 2.0b and 2× DisplayPort 1.4 and thus gives you the option to connect up to four UHD displays at any time.
All DH models from the 600 range have efficient heat-pipe cooling with a regulated dual fan. This cooling principle works reliably in any operating positions. For mounting on walls and surfaces, a VESA mount is included. Aluminium stands to allow you to further reduce the footprint as a desktop device are available separately.
To keep the desk tidy and create more space, all versions can also be placed away from the area you are working in. This is made possible by a remote power-on connection which enables a remote start using pins on the back with any two-pin cable and a dedicated button.
The efficient 120-watt power supply provides the Mini-PC Barebones with an optimum supply of 19 volts. It should be emphasised that the DH610 can also manage with a voltage of just 12 volts.
The sheet steel chassis gives all slim PCs from Shuttle the robustness they need for professional applications such as checkout systems, machine control or digital signage. Although the chassis is very small for the system power it offers, measuring just 19 × 16.5 × 4.3 cm (LWH), the internal structure does not look cluttered and this means it is very easy to install components manually.
Range of different accessories expands the possible uses
The optional accessories available for this model range include a VGA connecting cable (PVG01), a WLAN-ac/Bluetooth kit (WLN-M), a WLAN-ax/Bluetooth kit (WLN-M1), an extension kit for installing a 4G card (WWN03), a 19" 2U rack mounting kit (PRM01), a DIN-Rail mounting kit (DIR01) and a VESA mount (PV04).