Artificial intelligence (AI) is changing everyday life and the way the digital technologies industry operates
AI also helps in faster software development. Mr. Homann, vice president of Microsoft, said that we are now starting to see AI tools, which automate application development and code generation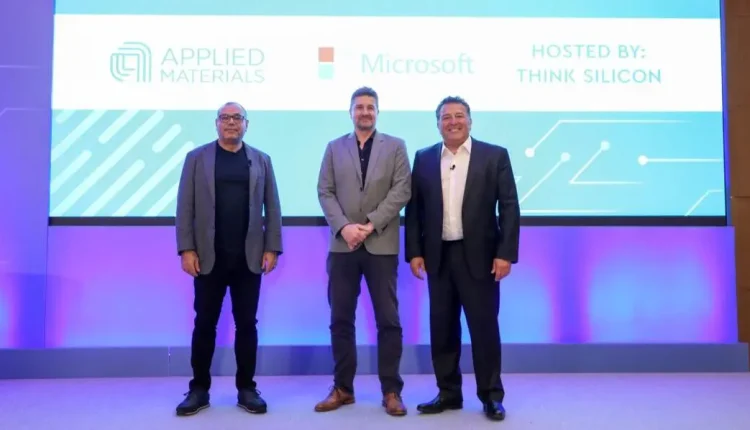 "When will each of us realize that AI (i.e. artificial intelligence) is everywhere in our lives?" This was the question posed by Costas Mallios, vice president and general manager of Applied Materials during the "Atoms to Algos" event, which has recently taken place in Athens.
The two other participants in the workshop, Moe Tanabian and Ulrich Homann, vice presidents at Microsoft, replied the first "within the next 10 years", while the second "much earlier".
The reality, however, as shown during the rest of the discussion, is that AI ("artificial intelligence") is already a key part of our daily lives. And as Mr. Homann mentioned, AI already affects a number of sectors of the economy, but also the activities of all of us.
According to him, we are currently in the second wave of AI applications. That is, we now have AI solutions and applications that can multitask at the same time, applications that have the potential for a basic level of "discussion", but, most importantly, have begun to make predictions based on the data with which we feed them.
A high-ranking Microsoft official said that existing systems are so smart that even if someone writes a text using two languages, they can choose which of the two to make the sentence to fill in the word they type. "These are all things that are being done today and it is not something we will see in the future," Mr Homann stressed.
The importance of cooperation
As AI makes its presence more and more intense, the requirements that exist from companies operating in the wider field of digital technologies are also changing.
A point that has been emphasized several times by the technology gurus is that it is no longer possible for a company to move autonomously and without cooperating. In fact, couplings should be made both with those with a corresponding object of activity and with companies moving in other sectors of the digital technologies industry.
A key reason for this, as Mr. Mallios explained, is that practically hardware and software should go hand in hand to some extent. Especially since hardware changes take a long time to "integrate" into the devices.Applied Materials, which provides the tools for hardware manufacturers to design their products, is called upon to be in contact with companies such as Microsoft in order to understand what the requirements of the applications will be in the coming years, so that it can adapt flexibly and quickly. Mr. Mallios pointed out that innovation in the field of hardware and processors with the use of new and advanced materials is the "unknown hero" of the industry.
Cooperation is necessary in order to meet another challenge, that of energy consumption. In terms of devices, companies such as the Greek Think Silicon, which has been acquired by Applied Materials, play an important role and undertakes the design of chips and screens for small-sized mobile devices, emphasizing on reducing energy consumption.
The "edge" of the network
Hardware is necessary in order for the so-called edge, the "extreme" part of network infrastructures to work, where we meet all these devices that we use daily for personal or professional reasons.These devices acquire more and more computing power and produce data, which is "transferred" to the cloud infrastructures for utilization and vice versa. And this is where "magic begins" when AI is used, as Mr. Tanabian said, as then we see the capabilities of applications and software.
One issue that has existed until now has been the existence of many different technology platforms. As a result, software developers were asked to write code in different versions in order for their applications to "run" on all available platforms. Something that is now changing.
As Mr. Tanabian commented, developers now have the ability to write code once and it "runs" everywhere. This is possible, as applications can be "uploaded" to the so-called containers, distributed on all platforms and "run" without changes, thanks to an approach called "Kubernetes."
Essentially, "Kubernetes" undertakes the "orchestration" of applications, so that they can operate regardless of technological platform, reducing the volume of work of developers.
AI in software
It is rather obvious that in this new era for the development of technological solutions, whether software or hardware, the cloud plays a central role. The close connection of the cloud to the edge allows all those services that we have available to be feasible. With AI taking the next step, allowing processes to be automated and the usability of services to be improved.
AI also helps in faster software development. Mr. Homann mentioned that we are now starting to see AI tools, which automate application development and code generation. "Anyone can write an application," the Microsoft vice president pointed out, stressing that this "frees" developers from many tasks that are not particularly productive. Mr. Mallios, in fact, added that in this way, the creativity and inspiration of people for new and innovative technological solutions can be "released". Or just do something that will make their daily lives easier.