ZEEKR's globalisation strategy gains momentum as the first batch of European ZEEKR X heads to Europe
This marks another significant milestone in ZEEKR's globalization strategy and the company's plans to accelerate its expansion internationally.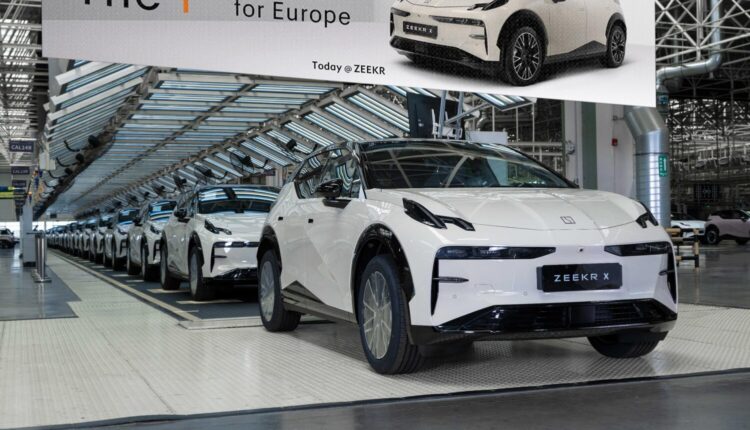 Following the successful launch of ZEEKR 001 last month, the first batch of ZEEKR X is en route to customers in Europe. This marks another significant milestone in ZEEKR's globalization strategy and the company's plans to accelerate its expansion internationally.
An important model in ZEEKR's export strategy, ZEEKR X development was led by globally renowned designer Stefan Sielaff. ZEEKR X is designed for adventures in the city and beyond: compact on the outside, spacious and luxurious inside, and effortlessly blends luxury, comfort, range, and performance, with cutting-edge technology and sustainable materials.
Since its launch in China, ZEEKR X has become the preferred choice for domestic top-tier luxury brand customers. Nearly 20% of ZEEKR 001 and ZEEKR 009 owners have chosen to upgrade to ZEEKR X to meet the travel needs of different family members.
To meet the diverse needs of consumers worldwide, the European version of ZEEKR X is tailored to perfection in its product design. It covers the development of voice and language systems for the entire European Union region, ensuring seamless communication in different languages during driving. The chassis is fine-tuned by the European team to meet the European NCAP five-star crash standards, embodying ZEEKR's safety genes with over 140,000 units delivered worldwide without a single case of spontaneous combustion. Features like trailer control interfaces, European EDR event data recording systems not only comply with European laws and regulations but also consider local cultural driving habits, achieving full localization. This truly reflects ZEEKR's commitment to providing an intelligent driving experience for global users.
In addition to product customization, ZEEKR has set up high-quality services tailored to local needs in Europe, creating an exclusive overseas model in areas such as product launch, channel expansion, marketing, and customer service.
In terms of global expansion, ZEEKR prepared thoroughly for its European strategy two years ago. Europe is regarded as its second home ground, and ZEEKR Europe Sales Company has been established, allowing for customized development based on the characteristics of the European market. The ZEEKR Global Design Center, located in Gothenburg, Sweden, comprises over 400 members from more than 30 different countries and regions. They deeply understand the needs of global users, providing ZEEKR products with international genes of top-level design engineering and emphasizing the luxury technology experience that ZEEKR's designs offer.
Following the announcement of its entry into Germany during the IAA Mobility motor show in September, ZEEKR will commence deliveries in two European countries, Sweden and the Netherlands, in the fourth quarter of this year. Subsequently, it will enter core Western European markets such as Norway, Denmark, and France, exploring more countries and regions in Europe worldwide.
Meanwhile, outside of Europe, ZEEKR is actively engaged in more international collaborations, having signed agreements in Israel and Kazakhstan, accelerating its journey towards the global market.
By adhering to its commitment to providing smarter, greener, and higher-quality travel solutions, ZEEKR is meeting the demand of global users for high-end travel in the new era with cutting-edge technology. ZEEKR's globalization strategy is steadily advancing, rewriting the landscape of the global luxury electric vehicle industry.
= End =