OK! Thess: The 14 Startups that reached the 13th acceleration cycle
The teams passed the bootcamp thanks to their original and creative ideas, each of which has something different to offer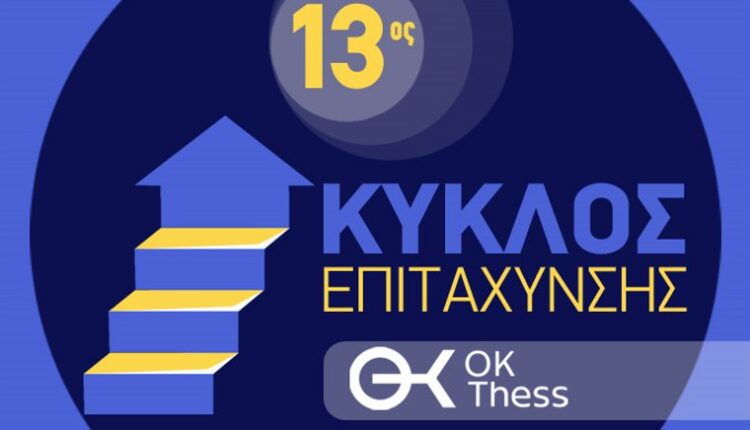 Ok! Thess
online Bootcamp was completed with the selection of
14 Startup teams
for the
13th acceleration cycle
. These teams with innovative ideas in the fields of medtech, tourism, agritech, information technology and other fields of technology, will attend the full acceleration program of OK! Thess and will receive support to develop and promote their business project.
OK! Thess, supporting and uniting young entrepreneurs, professionals, researchers and students in their first steps in Startup entrepreneurship, held another Bootcamp online in order to select the best Startups and initial stage ideas for the 13th acceleration cycle. The bootcamp was characterized by the quality and innovation of ideas and business proposals, as well as the dedication and development of the participating teams, whose members were from Greece and abroad.
The 25 teams selected to participate in the Bootcamp worked intensively on their ideas, developing their business model in the 25-hour online workshops together with the Startup Coaches of OK! Thess and the trainers of the Centre for Volunteer Managers of Greece (KEMEL). They then proceeded to the final presentation (pitch) of their innovative business ideas to the Jury, which consisted of the following bodies that support OK! Thess: Municipality of Thessaloniki, Alexander Innovation Zone, Aristotle University of Thessaloniki, University of Macedonia, International University, Federation of Industries of Greece, Exporters Association, Association of Information Technology Companies of Northern Greece, Technical Chamber and Business and Cultural Development Center.
For the 14 teams that collected the highest scores and managed to join the 13th acceleration cycle of OK! Thess the journey to develop their Startup continues. From January to April they will attend an online intensive training program with specialized workshops, masterclasses, weekly coaching by experienced entrepreneurs and at the same time they will have significant networking opportunities.
In detail, the teams that are included in the 13th acceleration cycle of OK! Thess in alphabetical order are:
1. Agrocognition: it offers an alternative method of crop spraying for farmers by utilizing a drone and an autonomous charging and refueling station.
2. Atlassers: travel hub for designing personalized routes with verified / objective information and reservations of services, activities, products.
3. Cheeky Mango: brings dance lessons from teachers from all over the world "in our living room."
4. Crowdspeak/Medoid: by asking any question, people get a common, collective voice with Crowdspeak's technology.
5. Microgaia: aims to be active in the research, development and production of natural cosmetic products with droplet microfluidics technology.
6. Mineral and Ore Auction: develops a web market to help mining-processing companies take advantage of residues with a few clicks.
7. Prosthesis: provides users (small/medium-scale) with 3D printing threads that print uniformly objects, limiting their further processing.
8. ReserveIT: creates a SaaS cloud platform for online bookings, where the user can easily discover shops and events.
9. Therapeek: monitoring psychotherapeutic practice using mental health analytics.
10. Troosh: an interactive learning app that helps users develop new skills from mentors who specialize in targeted topics.
11. Vaginsight: low-cost device for diagnosing intravaginal infections based on lab-on-a-chip technology.
12. Zero Waste Cups: a circular, sustainable system for reusable biobased/biodegradable beverage glasses.
13. μBio: redefines safety in aquaculture.
14. Fasouli: brings balance to the family with a monthly box of creative activities, designed by psychology, art and ecology specialists.